What is a flush mount ceiling light
A flush mount ceiling light is an overhead luminaire that sits directly on the surface of the ceiling. Surface mounted ceiling light fixtures are the workhorses of interior lighting. These close-to-ceiling fixtures make great additions to just about any room in a home because of their ability to provide volumetric lighting with minimal downward obtrusion. Normally, surface mounted lights are found in high-traffic areas like hallways, foyers and stairways, but lately, we have seen a rise in ceiling lights featured in hospitality or light commercial spaces as well as household utility areas such as kitchens, bathrooms, laundry areas, walk-in closets, and garages. Today, these low-profile fixtures are commonly used as the ceiling centerpieces in formal living rooms and dining rooms.
The KING of ambient lighting
Flush mount ceiling lights provide a great source of ambient light that effectively illuminates a large radius area below. Lighting is all about layers. Good lighting utilizes multiple light sources to form a balanced composition that can create effective, functional lighting as well as visual intrigue and a perfect atmosphere. The ambient layer of lighting is the base upon which you add all other layers of lighting (i.e. accent lighting, task lighting). Ambient lighting, also called general lighting, should fill a room with a soft, evenly diffused spread of light so that all parts of the room can be safely and comfortably navigated. Having a central source of glare-free, uniformly distributed ambient light is fundamental to establishing an effective and attractive layer of ambient lighting. Flush mount ceiling lights work great to radiate an ambiance that bathes an entire space in uniform, visually comfortable light. In spaces that accommodate only one "layer" of lighting, flush mount lights double as task lighting fixtures that provide bright enough illumination to illuminate various tasks and activities.
Typical applications
Flush mount lights find their typical applications in rooms with a ceiling height of 8' or less. Delivering maximum illumination with minimal disturbance of the ceiling plane, these fixtures are excellent choices for areas where space is at a premium but illumination is critical. Unobtrusively hugging the ceiling, low-profile ceiling lights reduce visual clutter and create the illusion of a larger, more open room while still leaving enough headroom. Low ceilings don't necessarily mean that you can't have an attractive centerpiece with flush mount fixtures. While a flush mount fixture can be as inconspicuous as a recessed downlight, it can also be as artistic as a pendant light. A thoughtfully designed flush mount ceiling light strikes a perfect balance between the decorative look of pendant lighting and the compact functionality of recessed lighting.
Make a subtle statement with flush mount lights
Just because there's no enough vertical space to accommodate a large, elaborate light fixture, it doesn't mean the space is doomed to be plain and boring. While flush mount lights are often thought to be more about function than decoration, they are in fact quite versatile. These fixtures are available in an incredibly wide variety of different styles that will complement any decor for a cohesive look. Traditional style fixtures often feature ornate metalwork and a classic-looking design. Rustic design draws inspiration from farmhouse and industrial interior design styles. It embraces a natural aesthetic and rugged beauty. Transitional design is a contemporary twist on an old classic. Simple aesthetic takes precedence over ornamental designs. Excessive ornamentation is losing favor in modern lighting. Modern style is defined by minimalist forms, clean lines, and a sleek look. Contemporary design remains minimal decoration but may have artful shapes, bold elements and eye-catching colors that inspire imaginations and capture an architectural aesthetic. From plain acrylic domes and fabric drums to stained glass fixtures and ornate crystal fixtures designed to mimic petite chandeliers, there's no shortage of options to find a centerpiece that plays to your particular decor style.
Conventional configurations
Flush mount ceiling lights are either completely enclosed for a lovely casting of light or flushed in an attractive exposed bulb design. The enclosed fixtures of conventional designs wrap the light source with opal or translucent shades or diffusers made of polycarbonate, acrylic, fabric, or glass. The shade is typically fixed by rotatory clockwise arrangement to a minimalist or decorative frame in your choice of brushed nickel, satin nickel, oil-rubbed bronze, antique bronze, or white finishes. Exposed bulb fixtures take on an open frame design or use a glass shade to enhance the decorative sentiment of tungsten filament bulbs.
LED ceiling lights
The profound energy, economic, performance, design and application benefits enabled by LED lighting have spurred a complete technological switchover for every conceivable lighting application. However, LED products are semiconductor devices that require more complex system design and engineering to maintain high efficacy and light quality simultaneously over the rated service life. The design of LED systems has to consider a variety of additional characteristics such as product cost, form factor and aesthetics. All these factors lead to differentiation in products from one company to another as well as LED luminaires use different designs. LED ceiling lights can be divided into two types: lamp-based LED systems and integrated LED systems. Lamp-based LED ceiling lights are constructed around light bulbs which can originally be incandescent or fluorescent bulbs but are afterwards replaced by self-ballasted retrofit LED bulbs. Integrated LED ceiling lights incorporate LED packages into the systems, rather than using LED bulbs as the light source.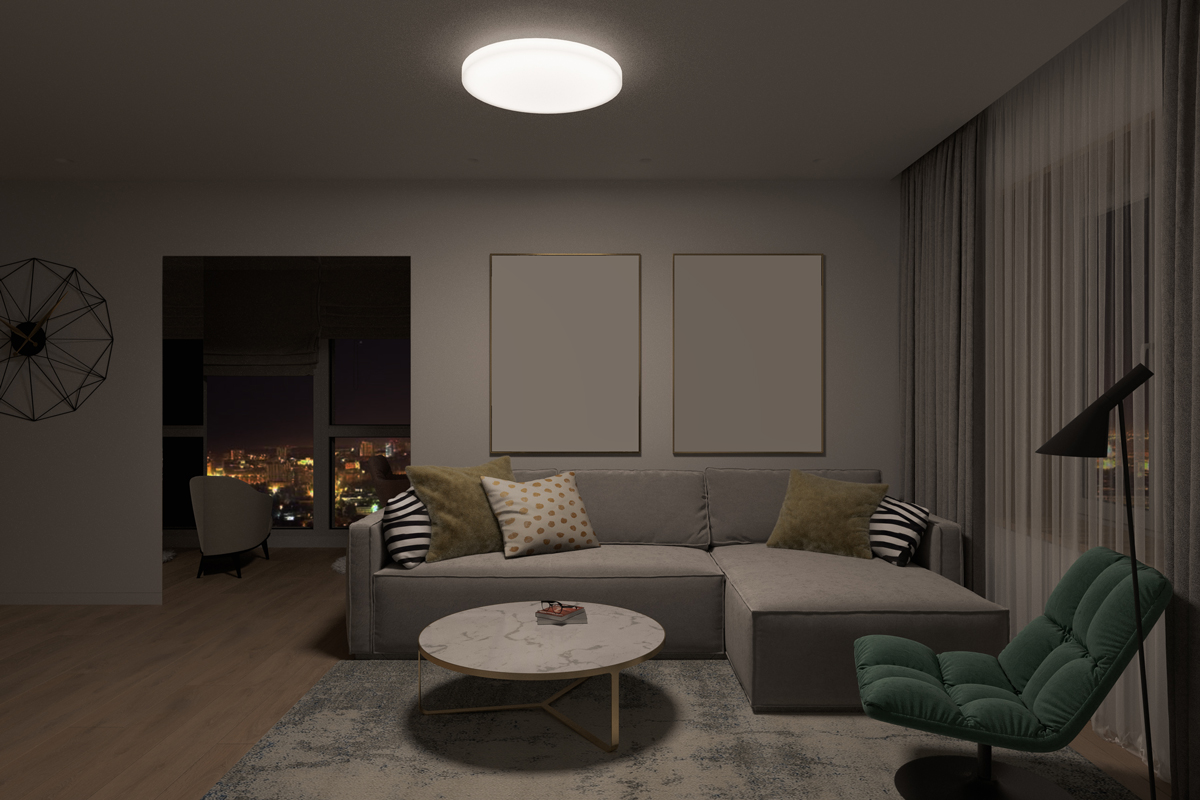 Lamp-based LED ceiling lights
Lamp-based LED ceiling lights are typically light fixtures of conventional designs which used to thrive on the decorative look of tungsten filament bulbs. The advent of LED filament lamps that replicate the vintage look and attractive ambiance of incandescent bulbs brings new life to exposed bulb fixtures. Lamp-based LED ceiling lights, however, are generally not suggested for heavy duty use or applications where light quality is a premium. This is because the efficiency, flicker control, color rendering, thermal management and dimming performance of retrofit LED lamps are often traded for downsized heat sinks and driver circuits as well as low cost system designs.
A19 SMD LED bulbs, the most commoditized LED products, are usually junked with low color rendering LEDs and bare-bones driver circuits. The low quality light source has a spectral power distribution (SPD) that is over-saturated in the blue and green spectrums and undersaturated in the red spectrum, which leads to poor color reproduction and unpleasant visual perception. The LED driver is often designed as a very simple linear power supply which is compromised in flicker reduction, dimming capabilities, and downstream protection of LEDs. These crappy products have very poor thermal management, which results in accelerated color shift and lumen depreciation.
Integrated LED ceiling lights
A holistic approach to design and engineering is required to provide an acceptable LED product because of LED's interdependence upon the thermal, electrical and optical systems applied. In integrated LED ceiling lights, all of the supporting systems work in concert to ensure that LEDs operate under optimal conditions. Adequate heat dissipation, exceptional line and load regulation, wide variety of compatible dimmers and flicker free lighting are just a few benefits to name with integrated system design. Aside from operational benefits, integrated design makes it possible to harvest the compact size and directional nature of LEDs for more sculptural or low-profile fixtures. LED technology brings unprecedented optical controllability to ceiling lights. The LED light engine can be designed to provide a large light emitting service (LES) for uniform distribution. Through edge-lit design, LED ceiling lights can deliver smooth, homogeneous illumination across the entire span of flat panel.
A platform for value-added features
Ceiling lights are poised to grow more sophisticated as smart, connected and adaptive lighting has become one of the key value propositions in interior lighting. LED technology affords us the opportunity to build advanced controls into ceiling lights. As the central source of light in many private residences, ceiling lighting should be flexible enough to address a variety of needs. The semiconductor nature of LEDs allows LED light fixtures to take advantage of all the benefits that emerging Internet of Things (IoT) has to offer. This digital controllability, in conjunctional with the spectral tunability of LEDs, has pushed the implementation of human centric lighting (HCL) in ceiling lights. HCL simulates the dynamic changes in the spectral composition (color temperature) and intensity of natural light to help keep human circadian rhythms in sync with the natural day/night cycle.