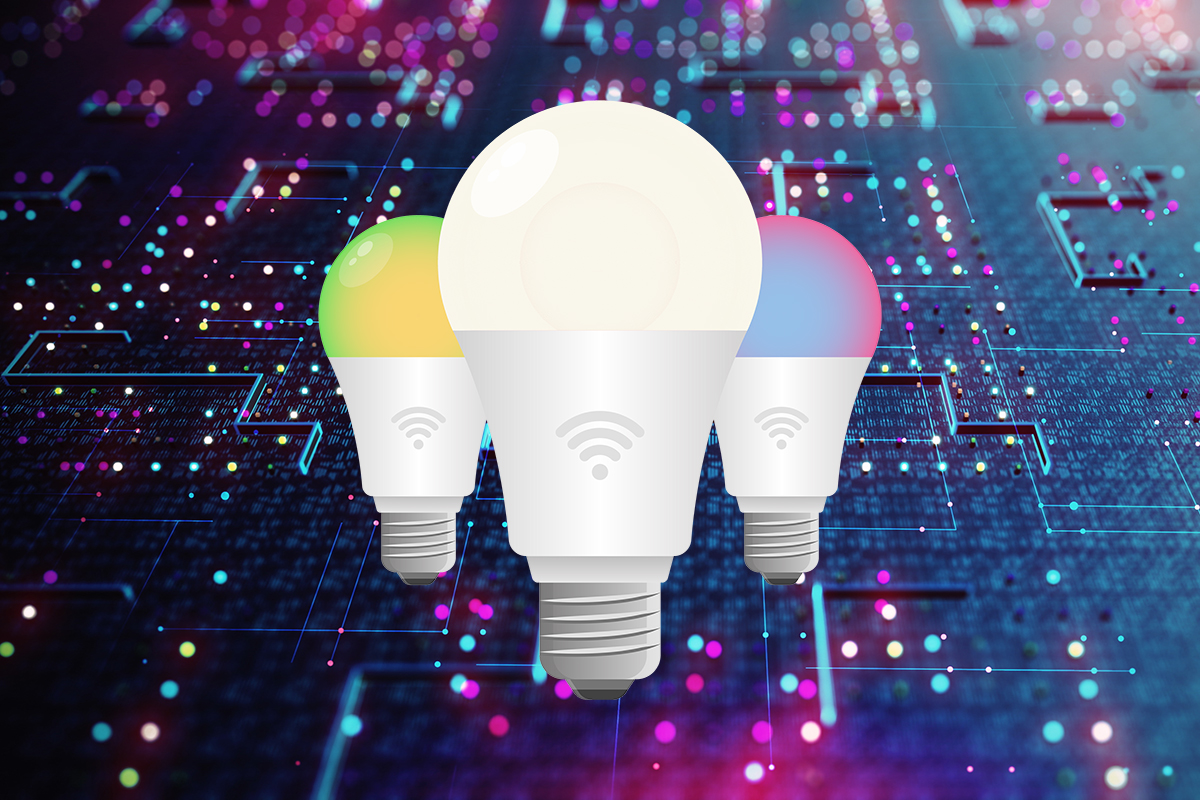 Lighting Is No Longer a World Unto Itself​
Welcome to the world of
connected lighting
! Driven by the
smart home
revolution and rapid progress in
LED technology
, the lighting industry is in the midst of a profound transformation. Lighting is no longer a world unto itself, it is becoming more intelligent and connected every day. The ability to create personalized lighting around people's lifestyle is one of the top three requested smart features in the home automation industry. The transition from traditional lighting to connected lighting has triggered a wave of innovation. Combining intelligence and wireless connectivity in a simple-to-install form factor,
smart light bulbs
provide a hassle-free and cost-effective way to turn everyday lighting into an extraordinary experience. Simply screw or twist them into existing lamp sockets and you have instant lighting control from anywhere in the world.
A smart light bulb is an LED bulb that allows lighting to be customized, scheduled and controlled via an app run on a mobile device such as an Apple iOS or Google Android smartphone or tablet. Available in standard form factors (e.g., A19/A60, BR30, and PAR38) and compatible with E26, E27 or B22 sockets, smart light bulbs install as easily as standard light bulbs while providing intelligence and autonomy to help you kick off a smart home setup. Gone are the days of fumbling around for a wall switch in the dark to activate a light. Customize your lighting with features that adapt at any time to your activities and desires. Automate the delivery of the correct amount of light whenever and wherever you need it. Experience the ease and simplicity of intuitive control all at your fingertips. The plug-and-play smart lights contain all the technology and hardware needed to get started with
smart lighting
, which enables
lighting controls
in places where it was not possible before.
LED Technology - the Catalyst of Smart Lighting​
Smart lighting is inseparably tied with solid state lighting based on light emitting diode (LED) technology. LEDs are semiconductor devices that produce light when an electric current is passed through the p-n junction where holes and electrons recombine to release energy as photons. The increased efficiency and extended lifetime of LEDs over conventional light sources are fueling a massive migration to LED lighting. In contrast to incandescent, fluorescent and HID lamps which present a number of challenges with regarding to lighting controls, the digital controllability of LEDs opens up a whole new world of possibilities in smart home applications and extends beyond lighting to deliver even greater value in the
Internet of Things (IoT)
networks. Previously, intelligent and dynamic lighting which required complex hardware and programming was an unaffordable luxury. LED lighting and smart devices synergically make adaptive lighting now an affordable reality.
Delivering Benefits beyond Illumination​
Conventional light fixtures, be it
pendant lights
,
chandeliers
,
ceiling lights
,
wall sconces
,
table lamps
, or
floor lamps
, were designed and constructed around light bulbs to provide lighting specific to an application. And despite the popularity of integrating discrete LEDs into light fixtures for enhanced design aesthetics and optical performance, light bulbs are still found in many newly released residential light fixtures. The digital transformation of smart home inevitably demands a retrofit or upgrade of these fixtures. Smart light bulbs were created to simplify this challenge. They easily inject connectivity and intelligence into these dumb fixtures without compromising aesthetical integrity of the fixtures, or requiring complicated installations and cluttered wiring. Smart light bulbs deliver value beyond light to provide an immersive, interactive experience.
Energy savings​
Smart lighting allows the energy savings potential of lighting controls to be fully exploited without sacrificing the visual comfort of the occupants. Adaptive illumination with greatly simplified lighting controls optimizes energy consumption via zone-based and individual-luminaire light management. Smart light bulbs can work in tandem with sensors to implement aggressive lighting control through occupancy detection, daylight harvesting and other energy-paring strategies.
Human centric lighting
(
HCL
) is a new buzz in lighting design. The concept behind HCL is to provide biologically effective artificial lighting that mimics the natural color and intensity variation of the sky, thereby promoting health and well-being. Smart light bulbs with
tunable white lighting
technology can replicate the 2700 Kelvin to 6500 Kelvin
CCT
cycle that occurs from sunrise to sunset. Cool
white light
which has a high portion of blue wavelengths supports the production of cortisol which is responsible for stress response and promotes the release of dopamine that is associated pleasure, alertness and muscle coordination. Warm light with a high percentage of red triggers the release of melatonin which promotes a better quality of restorative sleep. With programmable CCT tuning and dimming control, smart light bulbs bring the dynamics of natural light into a home and help the human body stay aligned with circadian rhythms.
Atmospheric lighting​
Warm white light in different tones creates a characteristic atmosphere and underlines the beauty and warmth of a space. It is well-known that the color temperature of light produced by an incandescent lamp drops linearly when the lamp is dimmed. This inherent characteristic of incandescent lamps has been utilized to evoke a feeling of cozy and intimacy in restaurants, hotels, theaters, homes, etc. Hence dim-to-warm LED lighting describes the capability of creating a comfortable, welcoming, and pleasant ambiance with the familiar glow of incandescent lights using warm dimming LEDs, of which the color temperature changes in proportion to the intensity. Smart light bulbs equipped with dim-to-warm technology provide smooth dimming along the CCT curve (e.g., from 3500K to 2200K) to duplicate the warm glow effect of incandescent bulbs.
RGB
color mixing
Smart light bulbs that incorporate RGB LEDs are capable of producing a dynamic range of 16.7 million colors through programmable color mixing. From richly saturated colors to natural-looking soft tones, the almost infinite palette of colors and hues allows you to create any imaginable illumination scenario. Play with a full spectrum of colors to energize the mood at event venues and dinner parties. Sparkle with brilliant light to create a festive and gorgeous atmosphere for holidays, such as Christmas, Valentine's Day, St. Patrick's Day, and Halloween. Paint your living space with a color that invites a romantic feel or inspire conversation. An intuitive interface allows you to navigate the rainbow or color wheel to set the perfect color. Use the camera on your phone as a color picker to capture the color from your surroundings. Turn your favorite photos into a palette of colors to set up the light color.
Dynamic lighting​
A dynamic ambiance with varied speeds and color transitions heightens drama and transforms a space from ordinary to extraordinary. Enjoy your own personal light show by synchronizing the light color and on/off pattern to the beat of your favorite music. Add an extra level of entertainment by cycling through hundreds of colors automatically.
Schedules and routines​
One of the best features about smart light bulbs is that you can create schedules and automations that fit into your daily routine. Schedule timers to turn individual bulbs or groups on or off to maximize energy efficiency and improve safety. Program your lights to dim and/or change colors or CCTs to enhance your everyday life. Rather than using the rude awakening of a sound alarm, create a routine to wake you up gently in the morning with gradually brightening light that mimics the natural sunrise. Fall asleep easily with natural lighting that automatically dims to warm. Set the timers to welcome you home with an inviting ambiance and automatically turn off lights after you leave home.
Security lighting​
Lighting can be a deterrent to criminal acts. Smart light bulbs can serve as security lights to create a perception of security and facilitate the proper use of other security devices. The timer function allows you to configure a vacation mode which simulates a non-vacant house with scheduled lighting. Integrate smart light bulbs into a security system to reduce criminal concealment and increase the criminal's fear of detection, identification, and apprehension. Turn the light bulbs into a visual element of burglar alarms by producing flashing warning light upon detection of an intruder. A light bulb that incorporates an HD security camera, an alert sounder and a PIR sensor brings offers automatic alerts when motion is detected within designated zones and allows live video streaming and burglar deterrent.
Safety lighting
Smart light bulbs can provide instant safety around the home to prevent trips and falls during the night. Motion sensor activated light bulbs provide wayfingding light only when movement is detected. A smart bulb that supports voice assistants offer a hands-free option to activate the light so you don't have to fumble for the switch in the dark. Pair your smart bulbs with smart smoke and carbon monoxide (CO) sensors to activate light alarms when a fire hazard is detected. The geofencing feature is a great addon in smart lighting applications. When this feature is activated lights can be automatically turned on or off based on your location. Use this feature to add a layer of safety by automatically turning on the lights in your patio, deck or front entrance when you arrive home.
Mobile App Usability​
Smart light bulbs are operated using a mobile app which can be downloaded from Apple Store for iOS devices and from Google Play for Android devices. The app serves as a virtual mobile light switch that allows for convenient and intuitive control of the bulbs from anywhere in the world by simply using a smartphone or tablet. App control offers comfortable switching, dimming, color mixing, color temperature tuning, music syncing, or energy use monitoring. Set schedules and timers, create scenes, manage groups, and customize user settings to personalize your lighting. A good mobile app for smart lighting gives users complete control over the bulbs, allowing them to manage lights effortlessly without a hitch, with the power to unlock all the benefits of the smart lights at a whim.
Smart Home Compatibility​
A smart light bulb isn't just about the interaction with a smartphone via the app. It must be a true plug-and-play addition to your smart home system for centralized control. A smart home system is designed to facilitate the household application of the
Internet of Things (IoT)
. It monitors and controls smart home devices such as smart lights, smart appliances,
occupancy sensors
and thermostats collectively to make the whole complex of home automation an easy task. Smart home systems are typically voice enabled digital assistants that allow users to seamlessly and conveniently control smart home devices with the power of their voice. Amazon Alexa, Google Assistant, Apple HomeKit, and Microsoft Cortana are the frontrunners in the smart home market.
Alexa is Amazon's cloud-based voice service which has the most third-party integrations of any smart system. Alexa is the brain behind tens of millions of devices including the Echo family of smart speakers. The Alexa Skills Kit (ASK) allows developers to create their own smart home skills.
Apple HomeKit using Siri as the voice assistant provides a robust platform for devices, apps, and services to communicate. Apple HomeKit technology provides an easy, secure way to control your smart lights and other HomeKit-enabled accessories from any of your iOS devices - iPhone, iPad, iPod touch or HomePod.
Google Assistant is a voice interface built on artificial intelligence which takes advantage of Google's search and voice-control expertise. Google Home, a smart speaker powered by Google Assistant, helps you to accomplish a powerful smart home setup with full voice control over the smart light bulbs.
Cortana, as part of an update to Microsoft's mobile operating system, is equipped with natural language processing capabilities derived from Tellme Networks and coupled with a Semantic search database called Satori. Microsoft Cortana is available on Windows 10, Android, iOS, Microsoft Band, Surface Headphones, Xbox One, Harman Kardon Invoke speakers, Windows Mixed Reality, and Amazon Alexa.
A truly smart light bulb allows for seamless integration with a variety of home automation solutions and smart home devices to squeeze all the juice out of smart home technology. Connect your smart lights to Samsung's SmartThings Hub and let a SmartThings-app controlled smart lock, camera, or motion sensor to automate when and how you turn on your lights. Reinforce your home safety and security by equipping your smart bulbs with the intelligence provided by the Nest cameras and Nest Protect Smoke and CO alarms. Get more peace of mind by creating the right illumination for every moment using Comcast's Xfinity Home system which provides advanced security solutions and smart automation capabilities. Create unique home experiences with Logitech Harmony remote controls which allow you to couple entertainment activities with your favorite lighting recipes. Control lights and activate scenes with a single click, a double click or a press-and-hold on Flic, a wireless smart button that sticks to any surface and can trigger functions predefined on your smartphone. Make your gaming experience more immersive by extending colorful effects on the Razer Chroma equipment to the whole room.
IFTTT Support​
IFTTT (If This Then That) is a cloud-based task automation platform that encourages users to design their own triggers, actions and conditions to stitch together a large variety of internet-connected products and services. These automation scripts, known as Applets, are triggered based on changes to other web services and smart home devices. IFTTT offers a very novel approach of building connections between devices and apps. It is supported by many smart home systems and devices. You can sync your smart light bulbs up to a whole bunch of Applets for creative control over the products and apps you love. Connect your lights with apps that support IFTTT and automate them to interact in countless scenarios. For instance, automatically turn on your lights when you arrive home with an IFTTT Applet that works with your phone's GPS. Connect your wearables to your smart lighting app through IFTTT and it will automatically remind you to do some exercise with dimmed light when no activity is detected in a preset time. Let your bedroom table lamp flash red when your outdoor security light registers an intrusion or if there's carbon monoxide in your home. Connect your light bulbs with apps such as Facebook and Twitter and blink lights when you're tagged on Facebook or mentioned on Twitter. Tie your light to a weather forecast Applet and set the light to turn blue when a rainy weather update is received so you can take an umbrella with you. Allow a smart door opener to turn off your garage light via the IFTTT Applet when the garage door is closed. IFTTT allows you to experiment with a myriad of possibilities with the only limit being your imagination! However, only with a smart light bulb that supports IFTTT automation can you enjoy the fun, convenience, and enhanced safety and security brought by this powerful platform.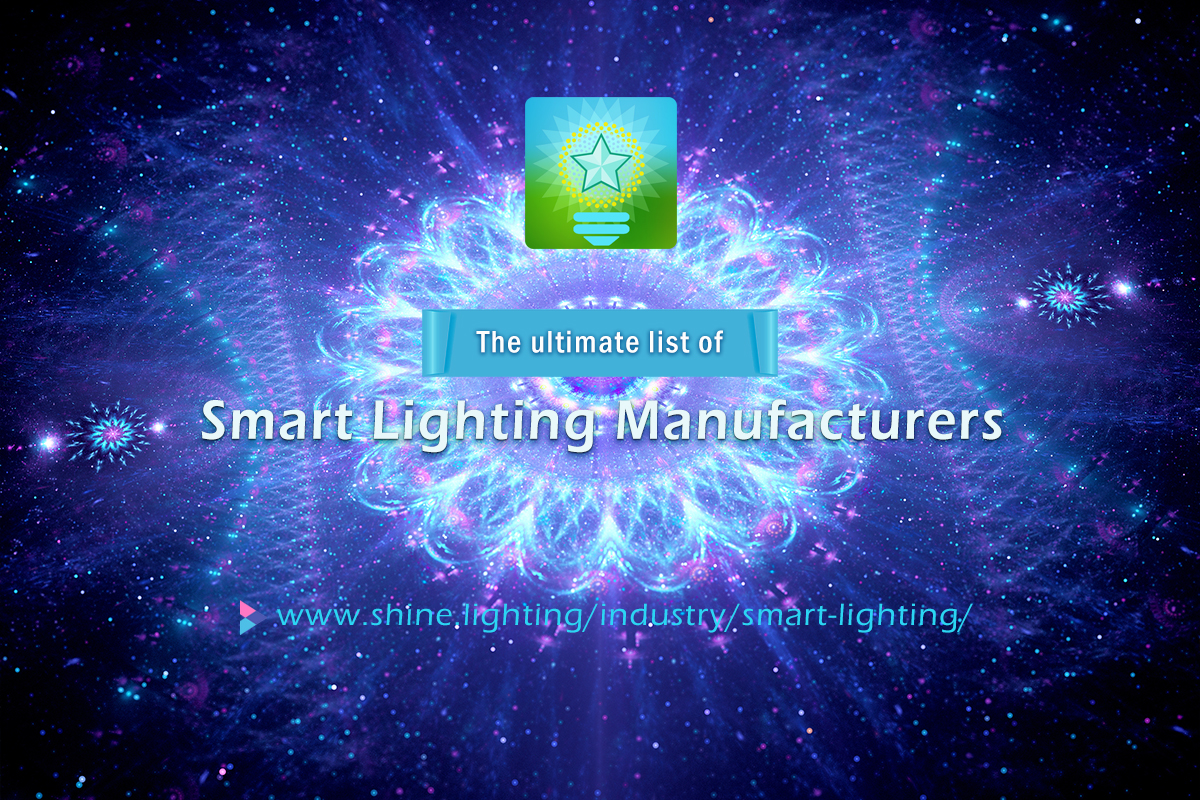 Wireless Technology​
Smart lighting only makes sense when devices are able to communicate. The deployability and affordability of wireless networking technology boost the demand for smart lighting solutions globally. Wireless technology for smart home networks sends modulated radio signals through the air using radio waves at a designated frequency. Radio frequency (RF) signals are not limited to line of sight. This makes it possible to deploy than a
wireless mesh
network in which all devices can communicate with each other without using a hub such as a router or a gateway. Mesh networking with self-configuring and self-healing capabilities offers a robust, easily scalable controls solution. This networking technology is crucial for smart lighting applications where
IoT devices
may span vast areas. Wireless connectivity comes in a variety of protocols including Wi-Fi,
Bluetooth
Smart, Zigbee, Z-Wave, Thread and EnOcean. Below is a round up of the most popular protocols for smart home deployment.
ZigBee​
ZigBee
is a suite of specifications for high level communication protocols using small, low power digital radios based on the IEEE 802.15.4 standard for communication among multiple devices in a WPAN (Wireless Personal space Network). ZigBee operates on the ISM frequency bands 868 MHz (Europe and Japan), 915 MHz (USA and Australia) and 2,4 GHz, with data rates of 20 kb/s, 40 kb/s and 250 kb/s. ZigBee is gaining a solid foothold in smart home applications for its scalability, interoperability, reliability, energy efficiency and security features. ZigBee typically utilizes a mesh network architecture which allows for the removal of a node without disruption of the whole system. ZigBee has a maximum wireless range of 75 meters.
Pros
Self-configuring and self-healing
Destination-based routing
Application-specific profiles
Smaller device sizes (smaller antenna)
AES-128 encryption
A good ecosystem of products
Low power consumption
Cons
Require compatible ZigBee hub to pair and control light bulbs
ZigBee nodes can be impeded by obstructions such as metal and contrete walls
Susceptible to interference with Wi-Fi network
Plagued by interoperability problems
Z-Wave​
Z-Wave is a proprietary system on a chip (SoC) home automation protocol operating at 868.42 MHz in Europe and 908.42 MHz in the North America. Z-Wave utilizes 2-way RF signals with meshing capabilities and employs a source-based routing scheme capable of routing messages via up to 4 repeating nodes. Designed for low power and low bandwidth applications, Z-Wave communicates with data rates of 9.6 and 40Kbps depending on the generation of chips. The short range (30 meters typical) allows the Z-Wave mesh network to encompass a whole home without disrupting a neighbor's mesh with strong signals. Devices based on Z-Wave are of two types: controller for initiating transmission and slaves that execute the controller's request. A central hub must be deployed within a Z-Wave network in order to control a Z-Wave network with a smartphone. Z-Wave supports maximum 232 nodes per network.
Pros
High level of focus on residential applications
Good signal penetration
Good immunity to network interference from the networks in the 2.4 GHz band
AES-128 encryption
Low power operation
Cons
Requires compatible Z-Wave hub to pair and control light bulbs
Slow healing procedure due to the source-routed topology
Poor key distribution implementation
High cost
Wi-Fi​
Wi-Fi is a wireless technology that allows electronic devices to communicate in a wireless local area network (WLAN). A number of IEEE 802.11 standards have been released over the years, including 802.11a, 802.11b, 802.11g, and 802.11n. 802.11b and 802.11g operating in the 2.4 GHz band, 802.11a operating in the 5 GHz band, and 802.11n can operating in both bands. Wi-Fi utilizes direct sequence spread spectrum (DSSS) signal structuring technique with which a narrowband signal is expanded to result in a broader or wideband signal. Wi-Fi is centered around a router. Wi-Fi devices connect through a wireless access point to the WLAN or communicate device-to-device using a Pier-to-Pier connection via a single RF communication channel. A mesh Wi-Fi system has satellite nodes that communicate with the router and each other. Typical commercial Wi-Fi range is 100 m.
Pros
Long range signal transmission
No need to add a hub or access point to connect your devices
Support high throughput and speed of communications
Good scalability
Universal availability
Cons
High power consumption
Susceptible to interference with ZigBee and Bluetooth
Vulnerable to hacker attacks
Bluetooth​
Bluetooth is a packet-based protocol designed for wireless connections between devices in a wireless personal area network (WPAN). Bluetooth is based on the IEEE 802.15.1 standard and operates in the ISM frequency 2.4 GHz band, with data rates between 25Mbps (Bluetooth V4.2) to 50 Mbps (Bluetooth V5) and RF range between 60 m (Bluetooth V4.2) and 240 m (Bluetooth V5). BLE uses Frequency Hopping Spread Spectrum (FHSS) signal structuring and specifies 40 channels, separated by 2 MHz, of which 3 channels are used for advertising (broadcasting, etc.) and 37 are used as data channels. Bluetooth supports star, mesh, Peer-to-Peer, mesh, and tree topologies.
Bluetooth Mesh
operates as a flood network that can support two-way communications and is self-healing.
Pros
Excellent network scalability with Bluetooth Mesh
More robust and not as sensitive to interferences as Wi-Fi and Zigbee
Compatibility with a huge established base of wireless devices
No need to hop to a hub or a central controller
Low power operation
Cons
Unable to control devices when outside of the range
Light Quality​
Most online writers that churn out a lot of "expert" reviews seldom had a look at the quality side of a smart light bulb. A light bulb, however smart it is, is basically used to provide quality light that contributes task performance and create positive perception of the visual environment. LED light bulbs are designed to retrofit conventional light fixtures that provide critical illumination in our daily lives. LED technology is much more complicated than conventional lighting technologies. It is a synergistic interaction of the light source, power supply,
thermal management
, and optics. The lack of industry standard specific to
LED lights
gives lighting manufacturers a chance to fool consumers. Dumb
LED bulbs
probably have the poorest light quality among different generations of light bulbs in the history of electric lighting. The only few noteworthy features of these products are energy efficiency and slightly longer operation life. While
smart LED bulbs
cater to consumers with high buying power and sell at steep prices, it doesn't necessary mean you'll get what you pay for. Most often, you're buying smart lighting experience, not high quality light.
Light Source​
Smart light bulbs are typically used for ambient or task lighting in your home where you retreat to recharge and relax. You definitely want to brighten your living space with light that has the highest quality you can find. And you might have never worried about that because you think it should be a common practice for lighting manufacturers to use the best light source in their products. Sadly I must say even you're willing to pay a premium for the smart light bulbs, lighting manufacturers wouldn't have mercy on uneducated consumers like you. Most smart light bulbs currently sold on the market have a mediocre
color quality
. Some big brands even don't specify color rendering index (CRI) in the product specification. CRI is a quantitative measure of the relative color quality of a light source with respect to natural light. It describes how faithfully a light source reproduces the colors of the objects being illuminated. Sunlight has a high CRI (of approximately 100). Incandescent bulbs have a CRI relatively close to sunlight (greater than 95). And the smart LED bulb you take pride in almost certainly has a disappointing CRI (80+). This means the light produced by your smart light bulb is deficient in some wavelengths and everything in your field of view appears moderately distorted.
Isn't it ridiculous that you paid the big bucks only to get a light bulb flawed in color reproduction? LEDs can be spectrally enhanced to produce light with color quality comparable to the obsolete incandescent bulbs. But lighting manufacturers don't have the push to equip their bulbs with high quality LEDs because in the past few decades we tolerated the fact the spectrally poor fluorescent lighting had rendered us an equally distorted world. There are no strict standards and regulations that require the industry to bring back the high color quality of incandescent light. In fact, high color rendering LEDs have been extensively employed in hospitality and
retail lighting
applications. A home is a place where love dwells. It deserves the highest quality lighting. For color critical tasks and natural rendition of your skin tones, a high CRI of 90+ and a strong R9 (a saturated shade of red) in the radiometric emission spectrum of the LED are absolutely essential.
Driving and Control Circuitry​
The
driving and control circuitry
is the heart of a smart LED bulb. It is no longer a simple power supply, but an integrated architecture consisting of at least a
constant current
regulator, a ZigBee/Z-Wave/Wi-Fi/Bluetooth transceiver IC, and a microprocessor. Besides the network robustness and processing power required to ensure smooth operation of smart lighting control, the driver circuitry should be configured to provide outputs matched to the electrical characteristics of the array of LEDs. Color mixing, CCT tuning and digital dimming require high performance load regulation of the driving circuit.
The driver design is also critical to ensure
flicker-free lighting
. Light flicker not only can induce eye strain and fatigue, but also has been identified as a trigger for symptoms such as headaches, migraine and general malaise. Low cost drivers cannot efficiently filter out high frequency ripple that causes invisible flicker. Flicker is a significant qualitative factor in LED lighting, but lighting manufacturers never disclose the flicker metrics of their products. Percent flicker is an Illuminating Engineering Society (IES) defined metric that measures the cyclic variation in output of a light source. An LED bulb with 4 percent flicker or less is considered extremely safe. 10 percent flicker or less is generally acceptable.
Don't expect your smart LED bulbs to operate for 50,000 hours or
last for 20+ years
. The trade-off for a long-lasting LED bulb typically comes with a compromised output quality that leads to the invisible flicker. As mentioned above, in order to effectively smooth out the large output current ripple delivered to the load for flicker-free lighting, a large output ripple filtering capacitor is needed. As the Buckets effect reveals, the operation life of an LED bulb depends on the shortest-lived component in its system. The lifespan of the ripple filtering element in the driving circuit could be as short as less than 10,000 hours either due to the terrible component quality or because of poor thermal management. This may cause the
LED driver
to fail and consequently reduce the rated lifetime of the LED bulb. There are alternative driving topologies that do not need the large output capacitors. However, either the smoothing effect or the efficiency is compromised in these systems.
Thermal Management​
LED bulbs consume 80% less energy than traditional incandescents. The rest is converted to heat that, if allowed to accumulate, results in phosphor thermal degradation and premature failure of the high temperature sensitive power components. The wavelength of the light spectrum increases and light output from the LED declines when an LED experiences an increase in its operating temperature. If no effective thermal management solutions are implemented to maintain the LED junction level operating temperature, permanent
color shift
and lumen degradation will occur. Excess heat could also negatively impact the driver and control circuitry, which can be more detrimental to the system. Consequently, there is a need for a thermal management system that efficiently reduces heat flux concentration.
LED bulbs used to be equipped with a sizeable aluminum
heat sink
that did a great job in thermal management. Mercenary lighting manufacturers have been doing the reduction math in the bill of materials (BOM) for a good profit margin or a competitive price. No longer will you find an LED bulb that uses an aluminum heat sink heavy in weight. This makes it tricky to evaluate the thermal performance of a bulb because LED bulbs that come with state-of-the-art thermal design could have excellent cooling efficiency as well without counting on weighed heat sinks. However, if an LED light bulb with a minimum power consumption of 8 watts is extremely lightweight, most likely it does not use metal components or high thermal capacity materials to dissipate heat or the heat sink is underweighted. Compare the weights of light bulbs that have similar power consumptions to make a preliminary thermal performance assessment.