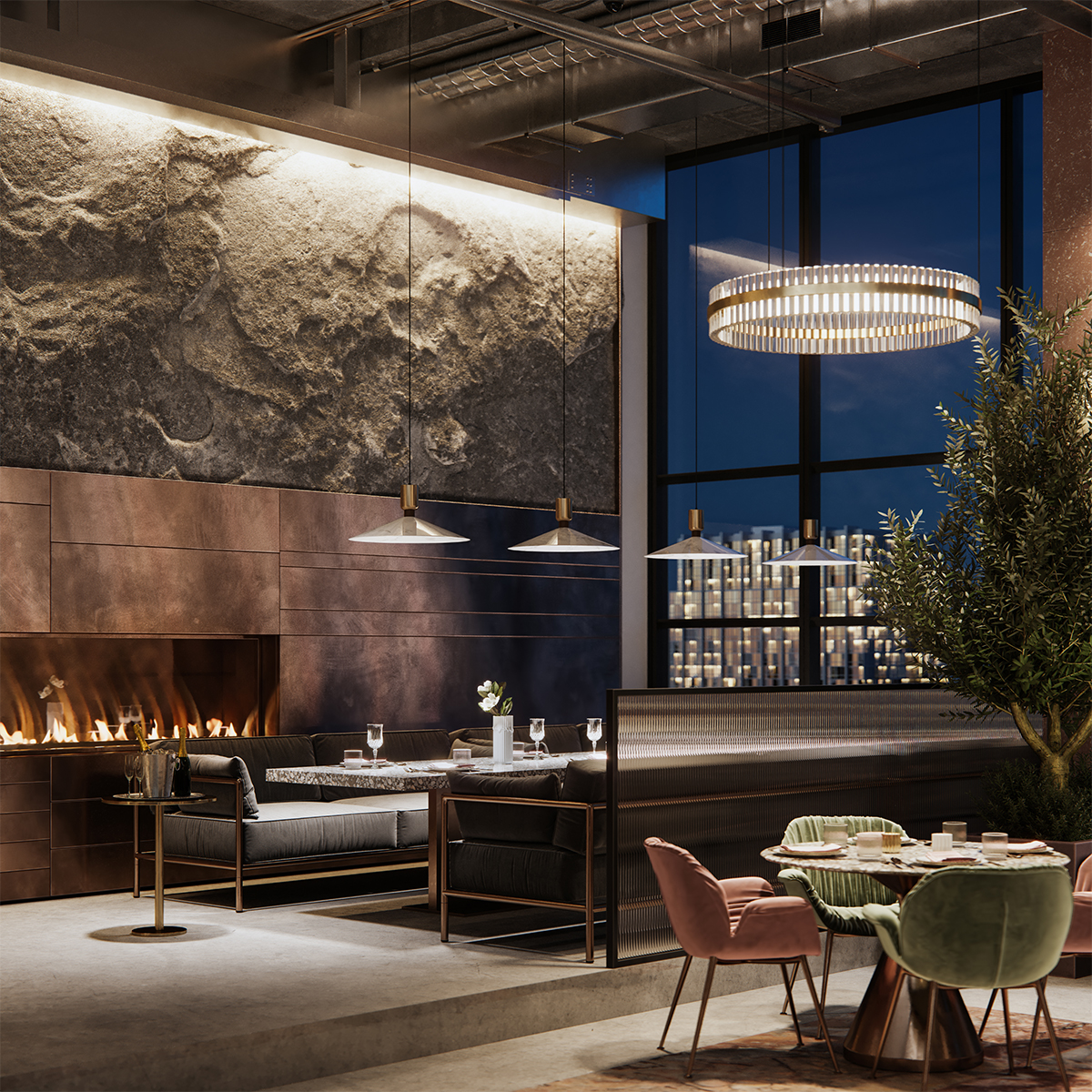 Pendant Lighting Never Fails to Leave an Impression​
Create a striking sense of spatial play in your home with an expertly crafted pendant light that invites breathtaking visual appeal from above and radiates a marvelous glow.
Pendant lights
inject an exciting rush of drama into to a stark interior design scheme. A commanding focal point with a perfect mix of art and illumination heightens the feeling of visual depth and vertical dimension in an atmosphere of sparkling splendor. A showpiece of decorative sentiment and material beauty will take your interior decor a new context and transform a utilitarian room into a relaxing oasis. Whether you want to channel a classic elegance or introduce a contemporary flourish into your room, pendant lighting never fails to leave an impression.
The Lighting Design Challenge​
As a retreat from the chaos of the outside world, your home demands a thoughtful lighting design that pays attention to various components and qualities of light. A living room, for exampe, is the hub of a house and hosts multiple activities ranging from watching television, entertaining guests and playing games to reading, needlework, and at-home workouts, etc. In fact, living room lighting is very challenging because it is required to address all human needs on lighting: visibility, task performance, visual comfort, social communication, mood and atmosphere, aesthetic judgement, health, safety, and wellbeing. Every room should have a balanced mix of lighting which layers ambient, task and accent lighting together within a room to create a fully usable, adaptive space. And this layered approach to lighting design is particularly important in living room lighting which should always establish a visual hierarchy in the space, cultivate visual interest and aid visibility.
A Showpiece to Impress​
Superb interior lighting can evoke positive emotional response, encourage social interaction, and foster mood and atmosphere, while improper lighting can weaken the effectiveness of all the other design elements. Stir up a cheerful conversation with your friends and guests, kick up your feet to relax with a drink and favorite television binge, or curl up on the couch and kill time with your smartphone in an intimate atmosphere and welcoming ambience. Among light fixtures that contribute to the lighting layers, pendant lights make a strong visual presence to reinforce the charming quality of your living room. Pendant lighting is an essential design element and functional device that combine to create a relaxing, inviting hangout environment and inspiring visual narrative for a living room. A unique hanging lighting fixture can create dramatic contrast or aesthetic harmony with the
recessed downlights
and wall scones while embodying form and function in a perfect balance. A pendant light which exudes striking decorative personality and radiates with a captivating glow is sure to lend an irresistible glamour to the social and recreational center of the home.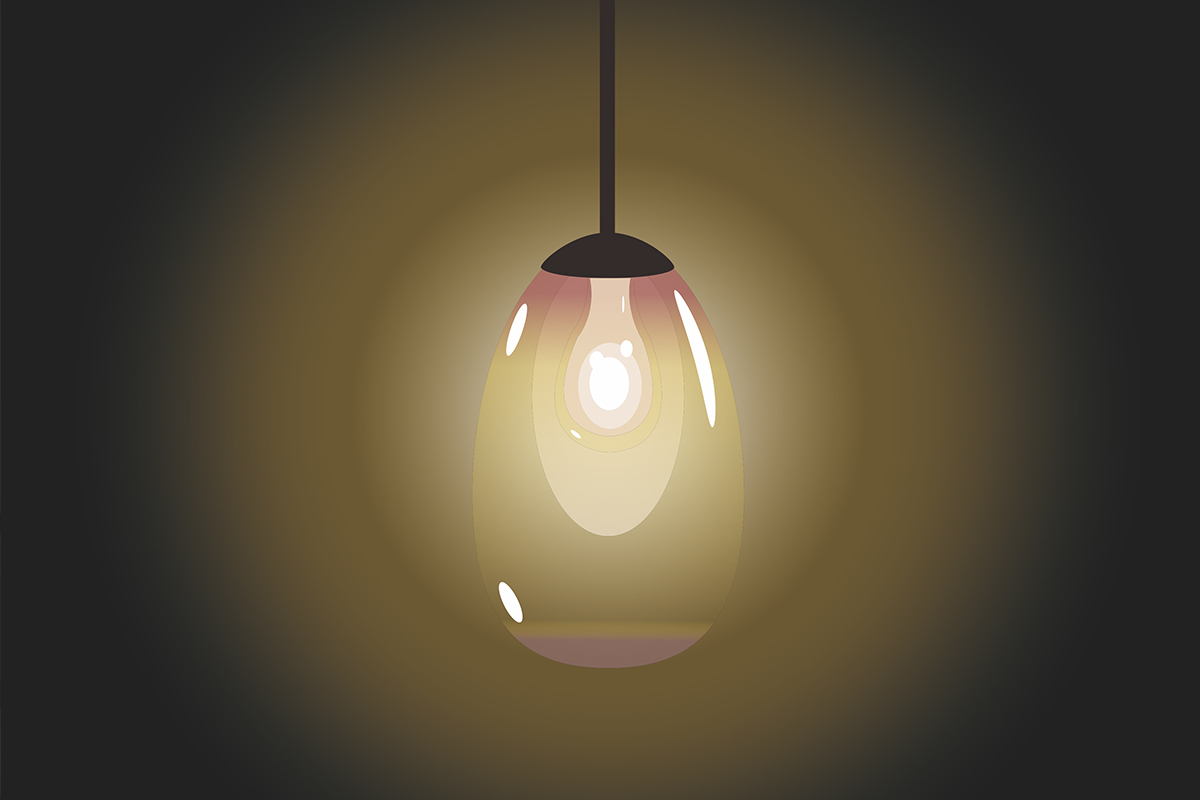 Diversified Offerings​
Pendant lights are a product category that comes with a diverse expression of imagination and creativity. Perhaps the most versatile in aesthetic expression and robust in functionality of all decorative
lighting fixtures
, pendant lights can take the role of an artistic
chandelier
to make a big statement, a supplementary downlight to create contrast with the rest of the space, or a
floor lamp
to light up a corner of the room. Unlike dining room and kitchen island pendants which tier their design to tabletop or countertop lighting, a living room hanging light can be either a grand impression piece that is positioned in the center of the room and fill the void between the ceiling and the living space, or a decorative task light hat directs light to specific zones of the room, such as the main seating area where a pendant hangs low over the sofa as a reading light or an accent light emphasizing a sense of distinction for this zone. In living rooms, pendant lighting can be installed as a single fixture to create sparkle or grouped in a row for a stunning visual effect of floating halos.
Types of Pendant Lights​
Flexible placement and versatile use of living room pendants translate into limitless possibilities in design. Virtually all types of pendant lights can find a worthy place in a home. Fixture designers play with shades and frames to produce an infinite array of geometric creations and visual compositions that showcase impressive artistry and design sensibility. Hanging light fixtures are available in an extensive choice of shapes, which include globe, bowl, cube, cage, dome, drum, cone, cylinder, cluster, bell, disc, bucket, beaded, lanterns, sputnik, starburst, and teardrop, etc. Create visual drama or imaginary delicacies with attractive lampshades that can be made from a variety of materials such as glass, metal, fabric, plastic, paper and ceramic. Glass shades add an instant splash of elegance and glamour to a space. Clear glass shades serve up the sparkling styles. Frosted glass softens the light source and delivers visual comfort. Decorative glass makes an intriguing decor statement. Metallic shades inspire a feeling of contemporary sophistication. Fabric shades create an intimate setting. Pendant lights which expose
light bulbs
showcase the beauty of ultimate simplicity.
LED System Design​
Pendant lighting design is constantly evolving especially when
LED lighting
took the stage. Semiconductor based lighting technology fundamentally changed the way that lighting designers style and engineer their fixtures. In addition to update conventional light fixtures with energy efficient
LED bulbs
, modern pendant lighting design is injected with an integrated approach. This creates unprecedented design freedom and invites ingenious lighting designer s to exercise their creativity. Unusual shapes, innovative optical design, and pioneering uses of materials make
pendant light fixtures
an artistic and sculptural focal point while offering exceptional design coherence with the decor and architecture of a room. From low profile panels, seamless light rings, stunningly pure cylinders, to whimsical geometrical wonders, the expanding portfolio of
LED pendant lights
allows an extraordinary range of aesthetic scenarios to be created for both contemporary and classic interiors.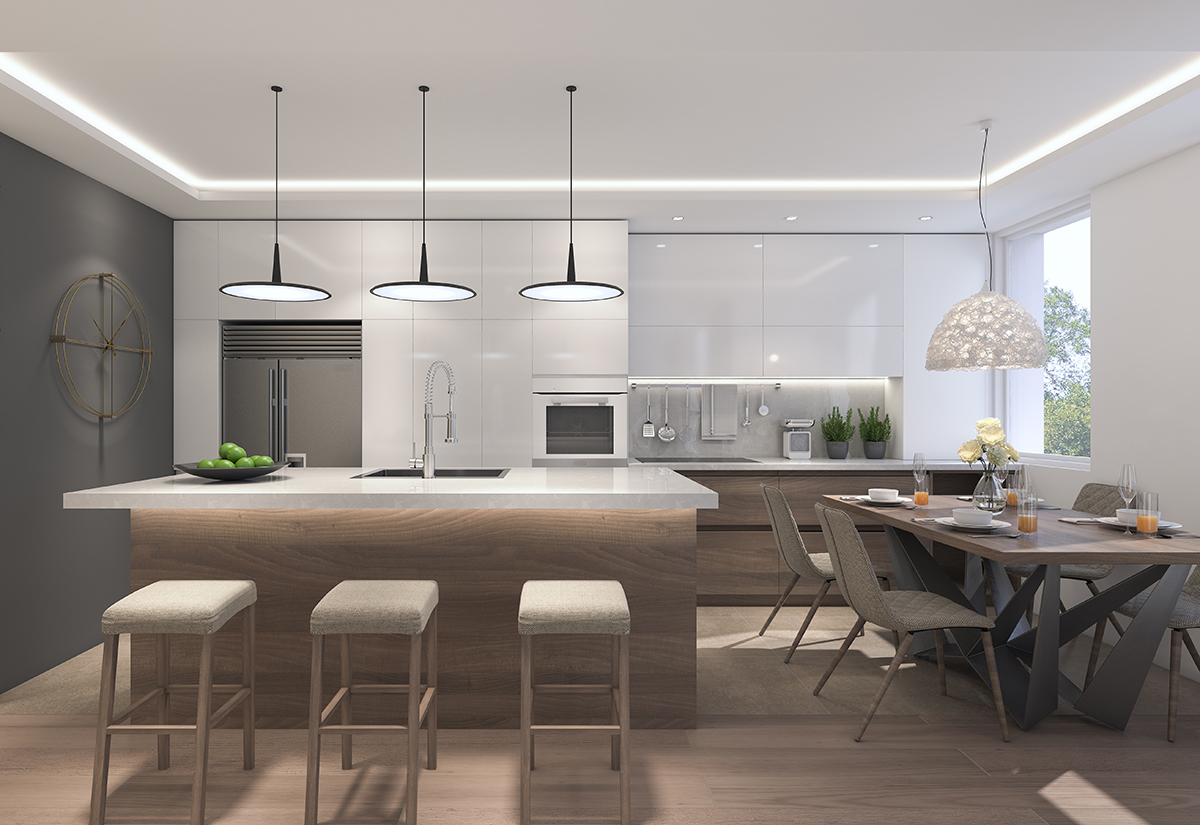 Fixture Styles​
Make sure your light fixtures express your concept. Pendants come in a variety of styles and themes to fit every aesthetic. Traditional homes are usually decorated with light fixtures which are exquisitely adorned in perfect symmetry and complicated geometry.
Contemporary pendant lights
offer visually arresting beauty through sleek purity, clean lines, sophisticated look, and absence of decor. While the transitional style is a compromise between traditional and contemporary. It has roots in traditional mindsets but incorporates the clean and bright features of contemporary design. Transitional fixture design simplifies the complexity of traditional ornaments and takes away the monotonicity of modern and contemporary design, allowing for a more balanced decorative flair. Art Deco style pendant lights bring everyday glamor and elegance to your decor with zig-zag lines, shiny finishes, jumbled forms and abstract geometric shapes. Scandinavian inspired light fixtures are increasingly popular thanks to their organic incorporation of an industrial edge and minimalistic aesthetic. Explore more ways to express your personality with a light fixture from other design styles like Farmhouse, Industrial, Bohemian, Rustic, Mid-century Modern, Mission, Neoclassic, and Nautical.
Lighting Quality​
Lighting is vital for vision, activity and perception. At a bare minimum, a pendant light should provide high quality illumination so that room occupants can safely, efficiently and accurately perform visual tasks without discomfort. Today, people all over the world spend most of their lives indoors and rely on artificial light to create worlds of perception and interpret architectural environments. In residential spaces where people retreat to recharge and relax, the quality of light has a profound effect on the quality of life. Adequate illuminances, optimal
color temperatures
, accurate
color rendering
, inoffensive luminance in the field of view, and stabilities of light output are all the good qualities of a lighting design. And these quality components are largely determined by the optical design and light quality of a light fixture.
Visual Comfort​
Residential lighting designers are highly competent at creating visual aesthetics for the light fixtures. They also take note of the visual comfort of interior lighting, including maintaining an optimal point of high brightness for decorative fixtures so that they create sparkle, instead of glare. Pendant lights can direct light upwards or downwards or in a combination of uplighting and downlighting for a balanced light composition. Suspended uplights shine upward to create a soft, shadowless light for maximum visual comfort and an increased visual depth. Downlight pendants mitigate glare by light diffusion or light shielding or a combination of two. Glare control is particularly important for LED luminaires as LEDs are directional light sources that create harsh spots irritating to human eyes. In addition to using light diffusers to soften the harshness of LED light and lamp shades to conceal bright light sources from direct view, optical design innovations such as edge-lit technology which uses internal reflection and refraction of light guides to eliminate glare and spread the light out evenly offer enhanced visual comfort.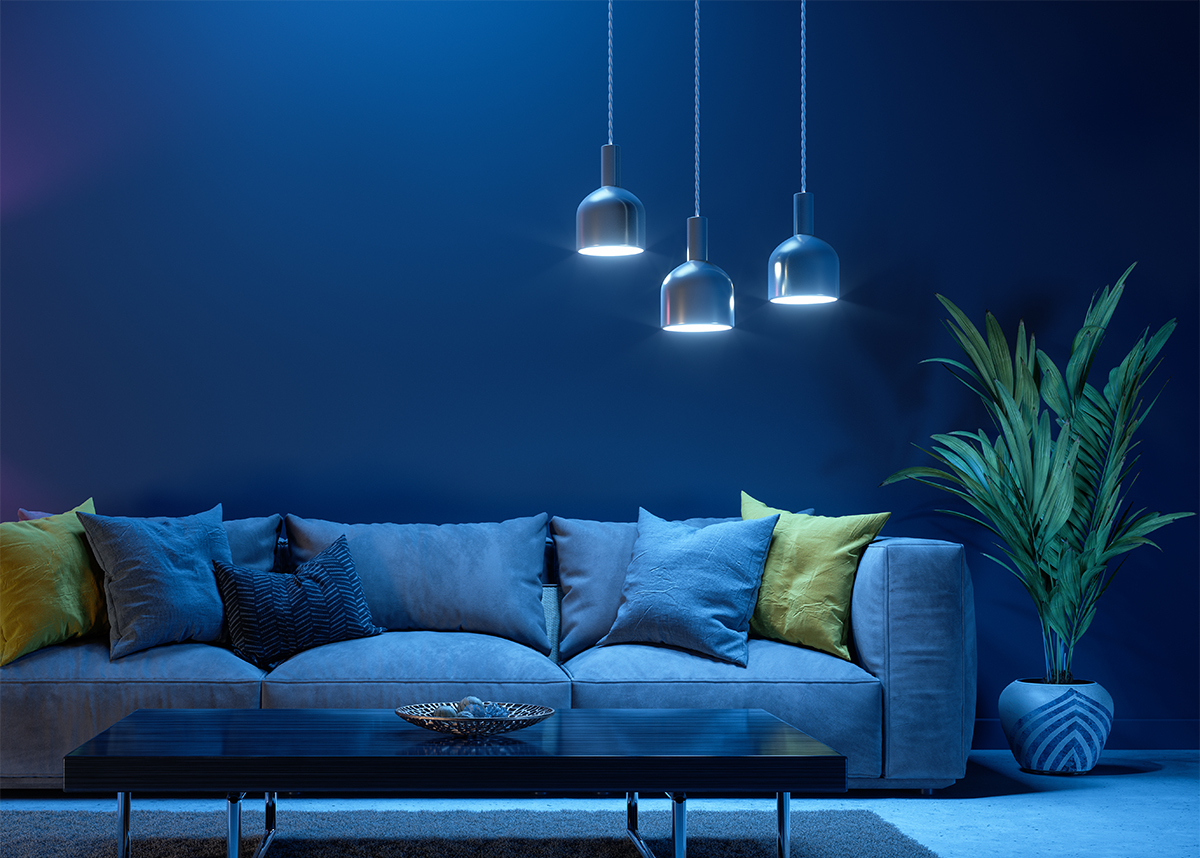 The Evil of LED Bulbs​
Nonetheless, sophisticated optical design is rarely found on residential LED pendants. Most pendant light fixtures still use light bulbs as the light source and a decorative element. The problem is that most
LED light bulbs
available on the market have a poor color quality. In the lighting industry,
LED bulbs
are regarded as a type of consumer goods and they exist to produce light and save energy. Lighting manufacturers compete heavily on prices and try to undercut each other. In the end these light bulbs are produced using the cheapest LEDs, simplest driving circuits, and the lightest
heat sink
. Long gone the days when we can enjoy the highest quality artificial light produced by incandescent light bulbs. Light emitted by tungsten filament based incandescent and halogen bulbs has an excellent spectral power distribution (SPD) that allows human vision to perceive every color contained in an object in high fidelity.
White light
with phosphor conversion LEDs is produced by combining the blue wavelength from the LED and the yellow wavelength from the phosphor. If layers of different phosphors are used, the emitted spectrum is broadened, and a high color rendering index (CRI) can be achieved. But the tradeoff is increased cost. That's why most LED bulbs have a poor color rendering index (CRI) of 80, as compared to the 95 CRI of incandescent bulbs. Not only these LED bulbs have a poor color performance, their built-in low-cost, barebones driver circuits leave the LEDs more susceptible to electrical disturbance and result in flicker. Moreover, poor
thermal management
accelerates thermal degradation in the LED packaging material. This will lead to lumen depreciation and
color shift
.
Integrated LED Luminaires​
We strongly suggest lighting designers to take an integrated approach to product development. Incorporate high quality LEDs, high performance drivers and high efficiency heat sinks into your light fixtures.
High CRI LEDs
which produce full spectrum light allow your light fixture to deliver a fantastic color experience and bring out the best in their surroundings. In the context of
smart lighting
, the role of
LED drivers
becomes increasingly important as it's required to support digital dimming and advanced
lighting controls
while providing low ripple current for a higher quality of light. It's a lighting trend that interior light fixtures provide adaptive lighting to create the perfect atmosphere for a selected moment, while achieving positive impact on people. Dim-to-Warm and
tunable white
technologies which dynamically adjust the brightness and color temperature of the lighting give consumers the ability to adjust lighting from task to task and create light compositions around the natural circadian rhythm. Excellent thermal management ensures the light fixtures provide consistent optical performance throughout the long rated life of the product.