General description
Professional task lights herein refer to desktop mounted, wall mounted and floor standing workstation lights that are adjustable in luminaire position and beam direction. These products are used to illuminate tasks performed on industrial workbenches, manual assembly stations, lab benches, and visual inspection stations that can be found in a vast variety of industries and sectors. Visual tasks carried out in a work environment often require a high quantity and quality of light that cannot readily be obtained with overhead ceiling lighting. By bringing task lighting closer to the work plane, higher task illuminance may be delivered, and higher energy efficiency can be achieved. With localized task lighting, factors influencing the quality of light can be more effectively and economically controlled. Controlled-distribution task lighting not only aids in the control of glare, but also helps direct attention to the work plane, which in turn contributes to concentrated, productive work.
Flexible light delivery
In the design of lighting for workstation tasks, flexibility should be there to make lighting customizable to the function of the workspace and the complexity of the task being performed. An important aspect of flexible lighting design is embodied in that individual users should be able to conveniently control the position and direction of lighting as appropriate for the task being completed. The task plane in industrial and professional applications usually occur in three dimensions, not just a fixed, horizontal area. Many tasks are performed in planes with various orientations, positions and heights. In addition, they may take place in areas with overhead obstructions. Target illuminance needs to be distributed to different directions, vertical, horizontal, or everywhere in between.
Adjustable workstation lights are designed to address the complex visual needs. Usually mounted on a gooseneck arm or an articulating arm with a flexible head joint, the light head can be moved and aimed to ensure that light is directed exactly where it is needed. While these fixtures can be wall mounted and floor standing, most of them are desktop or tabletop mounted. Adjustable workstation lights of the desktop or tabletop type can be freestanding with a weighted base or use fastener mounts, clamp-on mounts or magnetic mounts. These fixtures should be mechanically rugged to provide stability and to withstand possible rough handling.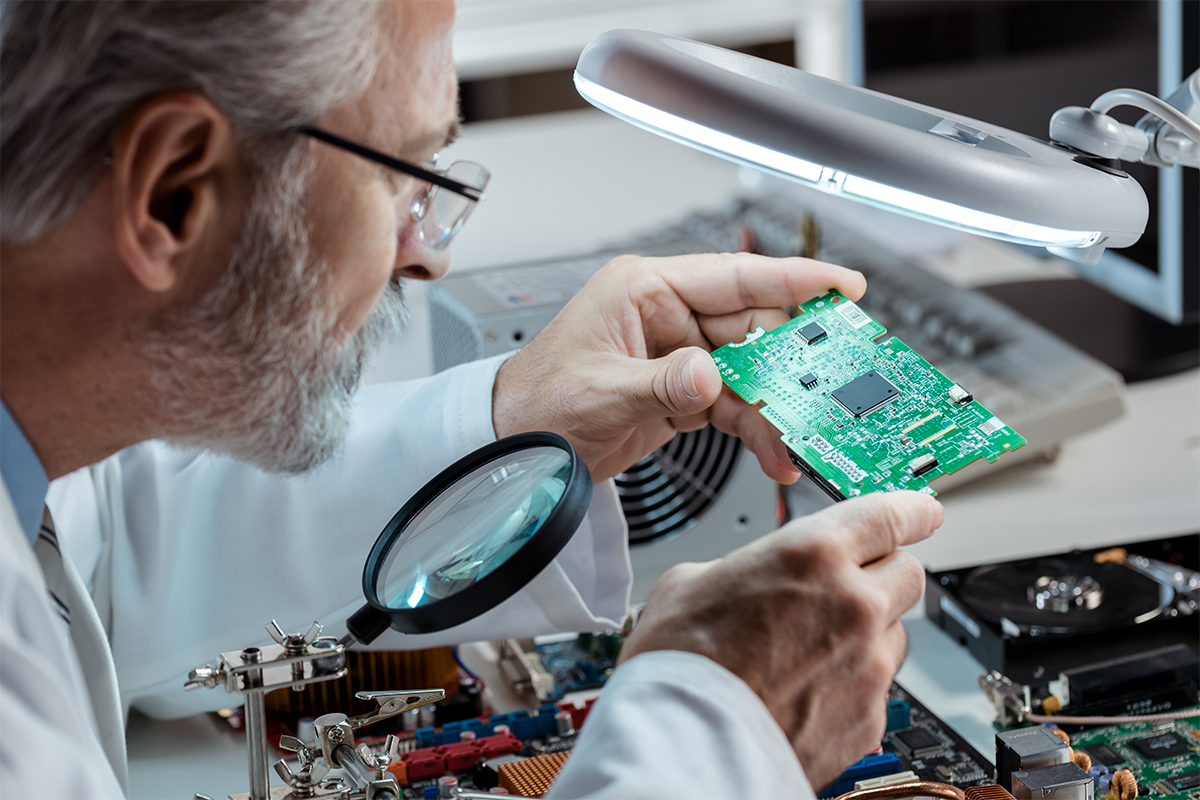 Lamp-based vs. integrated LED systems
As LED technology brings lighting to the forefront of performance, sustainability and economy, the use of LEDs in adjustable workstation lights is a logical evolution. LED workstation lights include those with a bulb-based configuration and those with an integrated architecture. Bulb-based lights are products that use LED lamp retrofits to deliver LED lighting in fixtures originally developed for incandescent or fluorescent technologies. These products are not effective applications of LED technology because the LED bulbs incorporated in these products are inherently compromised in efficacy and service life. Physical constraints to LED bulbs put a cap on thermal management and electrical design, resulting in poor lumen maintenance and, in some cases, color shift and light flicker. Simple optical control provided by traditional fixtures leads to high optical losses and light distributions of low uniformity. The design of an LED task light must account for the thermal behavior of LEDs and their need for tight drive current regulation. An integrated architecture enables thermal management to occur at the luminaire level and allows accommodation of high-performing driver electronics. It also permits implementation of high effectiveness and high efficiency optical designs that enhance visibility and enable energy savings beyond improved source efficiency.
System design
An LED task light (of the integrated type) has a self-contained light head which is comprised of at least three system components: the LED module, heat sink, and secondary optics. The LED driver may be housed in the light head but is more often incorporated in the base. The LED module is an assembly of SMD LEDs solder mounted on a metal core printed circuit board (MCPCB). It may also be simply a COB LED array. The color rendering quality of the LEDs should permit the users to efficiently, accurately and safely execute their tasks. The LED module is mechanically attached and thermally interfaced to the heat sink. Via the heat sink the thermal load generated at the LED junction is dissipated into the surrounding environment. Oftentimes the housing performs the duty of the heat sink so that the surface area for convective cooling can be maximized.
Light distribution
The form factor of the light head is influenced by the photometric distribution requirements of the intended task. When the task is performed over a large work surface, the light head is usually designed as a light panel or a linear assembly. When a concentrated beam of light is needed, the light head can be a small cylindrical light capable of producing focused light. Wide-distribution task lights are designed in a way that an array of SMD LEDs are populated on a square, rectangular or linear MCPCB. An opal diffuser or a lens array is used to control the light distribution. Some wide-distribution task lights are designed as edge-lit LED panels which use a light guide to transport light emitted by side-mounted LEDs and uniformly distribute the light through a diffuser. This optical architecture is capable of producing soft luminance and uniform illuminance to provide glare-free and high uniformity illumination. Task lighting should always ensure no excessively luminance is exposed to the eye and the task plane is uniformly illuminated. This becomes particularly important for applications where there are sustained visual tasks.
Color quality
Task lighting should have a minimum color rendering index (CRI) of 80. In applications where color discrimination is important, the CRI should exceed 90 and the six special color rendering indices, referred to as R9 through R14, should be evaluated when necessary. The color appearance of light is important to create a productive work environment. In general, the correlated color temperature (CCT) of the light source selected for a work environment is between 4000K to 5500K. LEDs of this CCT contain a relatively higher percentage of radiant energy at blue-violet end of the visible spectrum, which makes the light appear brighter to the human eye than LEDs that are deficient in radiant energy with shorter wavelengths. The blue-enriched light can physiologically stimulate the users to alertness and activity, which makes sense from a performance and productivity perspective.
Driver circuit
The LED driver provide constant currents to operate the array of LEDs. It is usually configured to convert the AC mains voltage into a precisely regulated DC output using a switch mode power supply (SMPS). The drive current should have very small ripples so that the LEDs will not flicker or produce stroboscopic effects. To provide variable light output, multilevel switching or continuous dimming control may be built into the driver circuitry. Products intended for use in industrial environments should arm the driver circuits with the ability of providing effective transient suppression. The current sensitive LEDs and driver components should be adequately protected from the damage of switching related transients that are common in these environments. In some operating environments, special care should be taken to specify an LED driver with that meets electromagnetic interference (EMI) requirements.