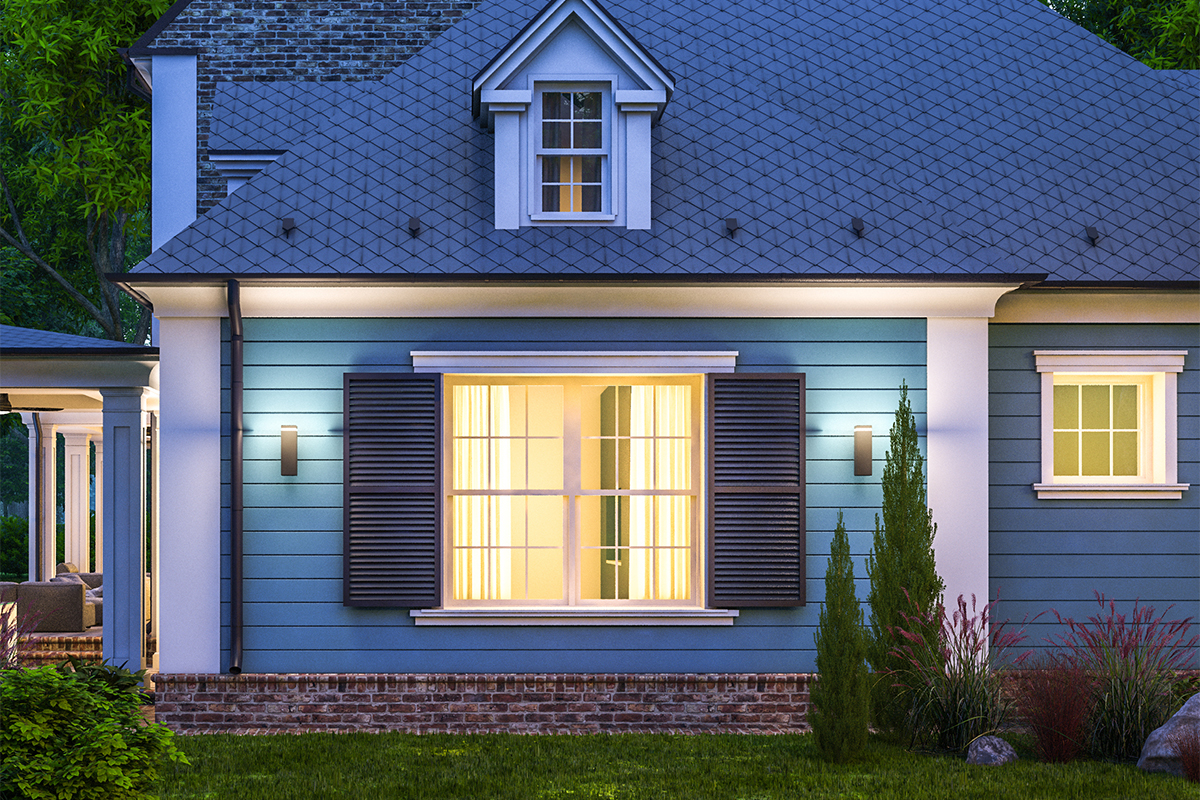 Get Style, Convenience, and Security with Outdoor Wall Lighting​
Wall-moounted lighting plays an important role in transforming the look and feel of an outdoor space and ensuring that your guests have a safe and pleasant arrival. From dust to dawn, illumination in residential exteriors should be sufficient to provide a visual cue for designating building entrances. At the same time, your living space deserves to be admired not only during the day but at night too. Distinctive, well designed wall lighting can enhance the intrinsic charm of exterior architectural features.
Decorative wall sconces
create a decorative, artistic touch and take your outdoor decor to a whole new level of beauty. Get style, convenience, and security with outdoor wall lighting, whether you need to brighten up your front door, accentuate the texture or surface dimension of walls, or lend dramatic allure to your exterior decor with the decorative qualities of the fixtures.
A Bridge between the In and Out​
Outdoor wall lighting bridges residential lighting with landscape lighting and blends functionality with an opportunity for artistic expression. Too often, people associate
wall lights
with a wayfinding light source while landscape architects take these lights as a design element for adding a layer of depth to the exterior landscape. The introduction and development of
LED technology
blurred the boundary between form and function. Recent trends in outdoor wall lighting bring professional interior design principles to the exterior of your home with inspiration from landscape lighting. While interior lighting places an emphasis on creating a visual sparkle, landscape lighting focuses on creating layers of light than can envelop an architectural structure like a second skin with the light sources blending unobtrusively into its setting during the day.
Outdoor wall lights
are designed to provide a smooth transition of decorative perception in daytime and impart a logical ambient adaptation in nighttime from outdoors to indoors.
The main starting point when considering outdoor wall lighting is to specify the primary design goal: are the luminaires to be used for illuminating building entrances and perimeters or for creating interest and ambience into any exterior space along brick or rendered walls?
Wayfinding and Area Lighting​
Outdoor wall lighting
was initially intended to provide a pool of ambient light around the lighting fixture for safe navigation in the vicinity of front doors, garage doors, porches, patios, walkways, driveways, back yards and more. These wall mounted fixtures typically have wide light distributions for the purpose of maximum light coverage. The
wall light
usually has an arm that extends out to provide a setback distance for increased forward illuminances. These wall lights most often use
light bulbs
as the light source mainly because of their omnidirectional light patterns.
Security Lighting​
Security lighting
is installed to provide a clear view of an area from a distance, thus helping protect people and property from criminal activities and meanwhile creating a perception of security. Lighting has an impact on the incidence of crime because it not only provides nighttime visibility for video surveillance systems but lighting its self can be a deterrent to criminal activities. Wall mounted security lights are required to provide sufficient vertical illuminance for facial identification at distance at least of 9 m (30 ft). Good lighting alone cannot guarantee security. Wall mounted security lights are usually integrated into preventive surveillance systems which may consists of a security camera, PIR motion sensor, remote panic alarm, and 2-way communication speaker and microphone. A security light generally takes form in a floodlight.
Architectural Lighting​
Architectural wall lighting places emphasis on the architecture instead of pedestrian illumination. Make a welcoming statement to your guests and add the perfect amount of detail to the exterior area of your home with the inviting glow of wall lights. By creating captivating shadows on walls or aesthetically highlighting architectural details such as fine stone or wood work, your home distinctively stands out amongst neighboring houses. This style of lighting utilizes various techniques such as wall grazing, wall washing and shadowing. Accentuating the texture or surface dimension of walls adds a layer of depth to your beautiful exterior landscape.
Recessed Lighting
Recessed wall lighting
provides unobtrusive illumination for safety on walkways and stairs. There is no unpleasant glare as these light fixtures are typically engineered to produce a downward light distribution. Recessed installation ensures a clean architectural visual.
Types of Outdoor Wall Lights​
Outdoor wall lights come with a huge variance in appearance, design and function. Indulge in design aesthetics exuded by functional yet visually appealing pieces crafted in the industrial, minimalist, traditional, transitional, contemporary, or rustic style. Illuminate your outdoor steps and porch entries with delicately designed lantern sconces that make a welcoming entry. Lift the ambiance of your outdoor space and bring undeniable charm and character to your decor theme with a subtle glow of accent light fixtures. Enhance the safety and security of your building perimeters with area luminaires or floodlights.
Lantern wall sconces​
Inspired by vintage European fashions, lantern wall sconces have a prominent presence in the outdoor wall sconce family. Featuring a sturdy design and rustic appearance, these sconces lend your home's exterior a feeling of old world elegance. Lantern sconces have a die cast construction with a weather-resistant finish. Clear, seeded or frosted glass shades enhance the weathered look of the fixture. Among them, the seeded glass shades showcase the beautiful look of the vintage style LED bulb and create a diffused effect when illuminated.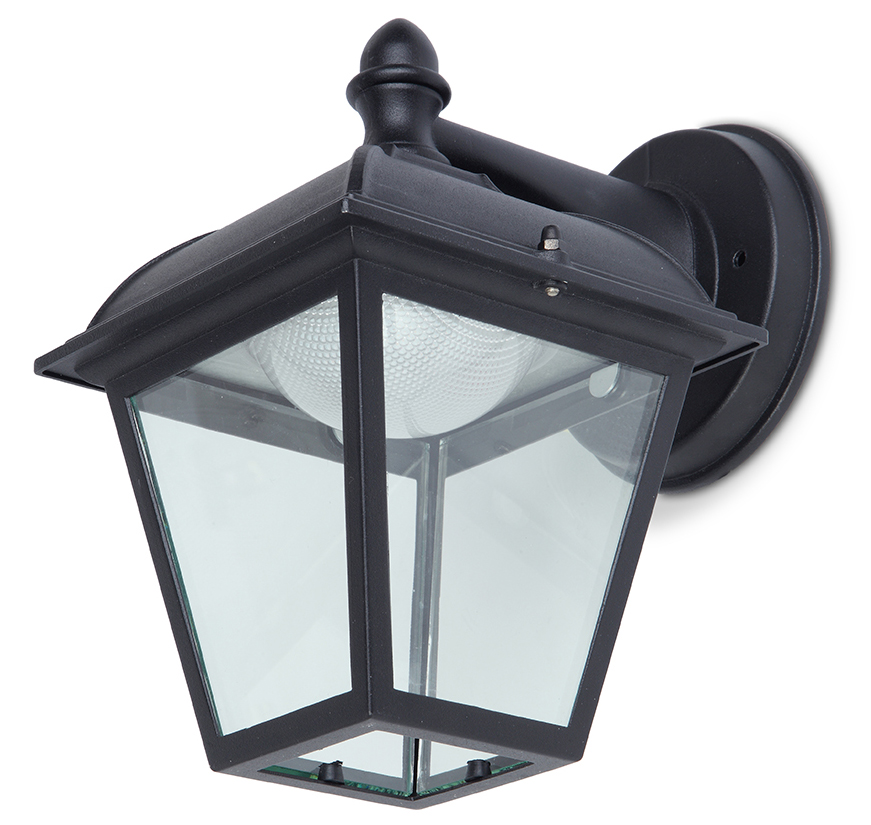 Barn lights​
Gooseneck barn lights
that replicate industrial lights found in the early 20th century are a class of lighting that never goes out of style. This type of fixtures has an elegantly curved arm and a classic metal shade with a bare bulb beneath it and white interior to maximize reflectivity. Blending wonderfully in any contemporary or transitional decor, the beautiful and alluring accent reminiscent of the warehouse and barn style living brings character to the exterior space it occupies.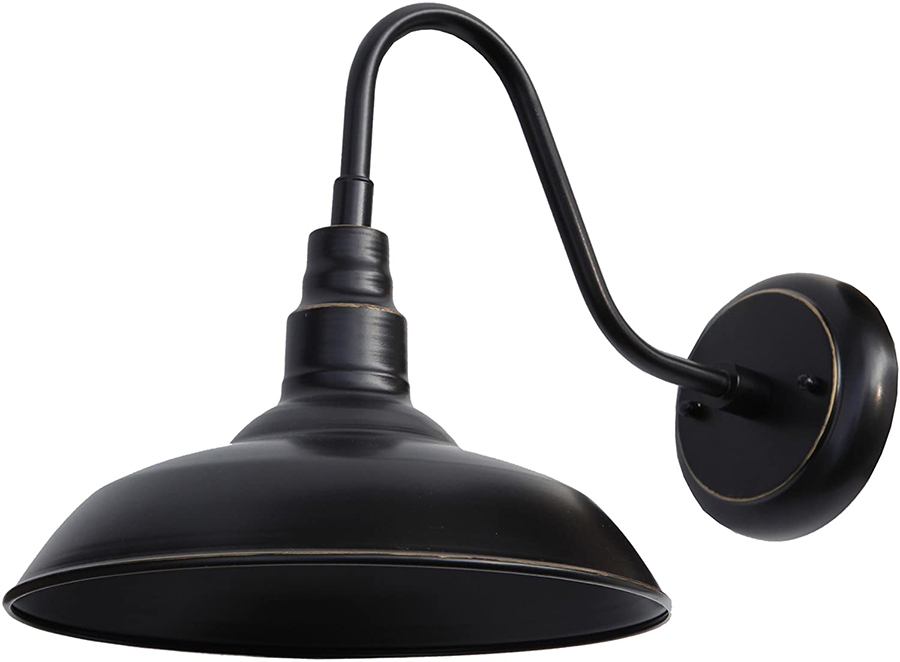 Flush mount sconces do not have arms or extending designs and are usually fully encased to provide a clean, sleek visual aesthetic. These luminaires are available in a variety of optical designs that provide general illumination or architectural lighting.
Architectural wall sconces
play with beams that radiate upward, downward, or/and from the sides. Wall grazing, which is achieved by placing a light source close to the surface, is the most used lighting technique in architectural wall lighting. Underlined with grazing light, the texture of a vertical surface is enhanced and the wall is given a new dimension.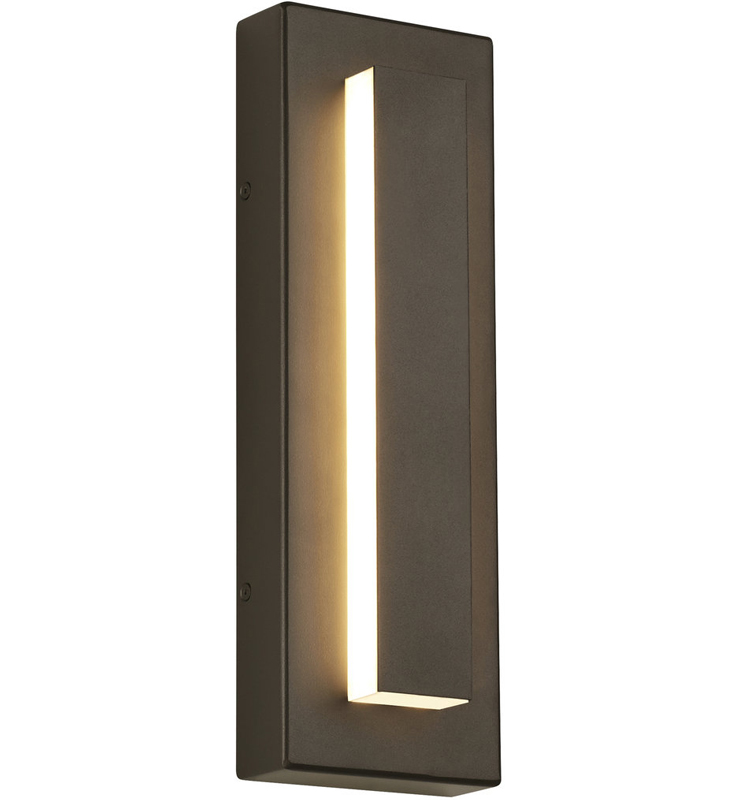 Flood lights​
A wall mounted flood light is part of a complete security system in which it provides security lighting for a controlled area. A security light is required to provide 5 to 8 lux vertical luminance at a distance of at least 9 m from the viewer or video camera. By establishing clear zones of recognition, flood lights provide a sense of safety and security and facilitates the proper use of other security devices. They can be swiveled and tilted to ensure the best lighting angle. Flood lights for security lighting are usually motion activated.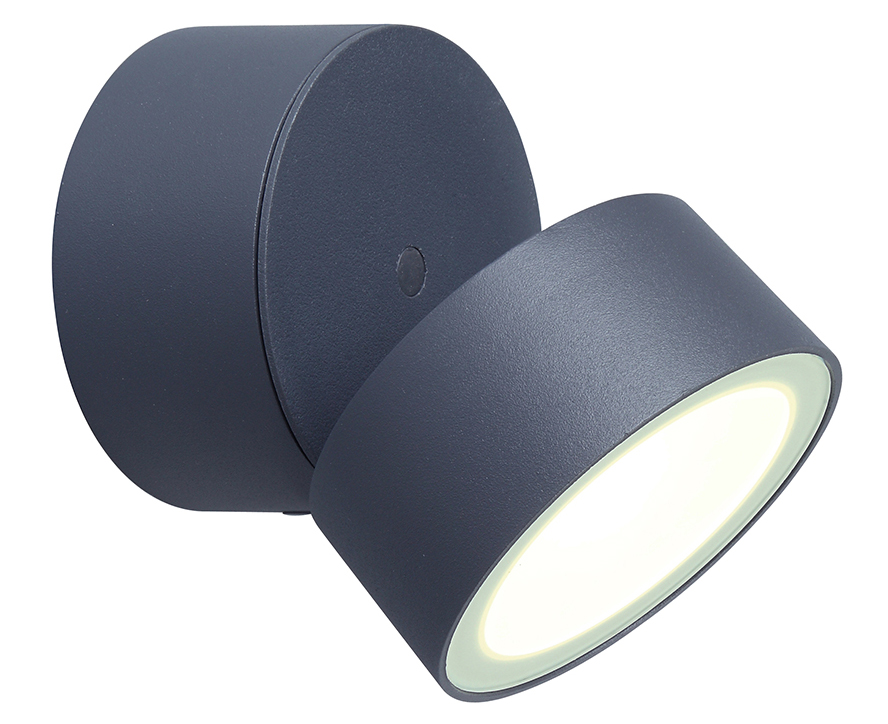 Recessed wall lights are designed for lighting applications where protruded fixture would be visually obtrusive in terms of architectural integrity. Not only these fixtures are very unobtrusive or concealed, their light source is often regressed or shielded to produce downward asymmetric light distribution and therefore the luminance of these fixtures is inoffensive to eyes.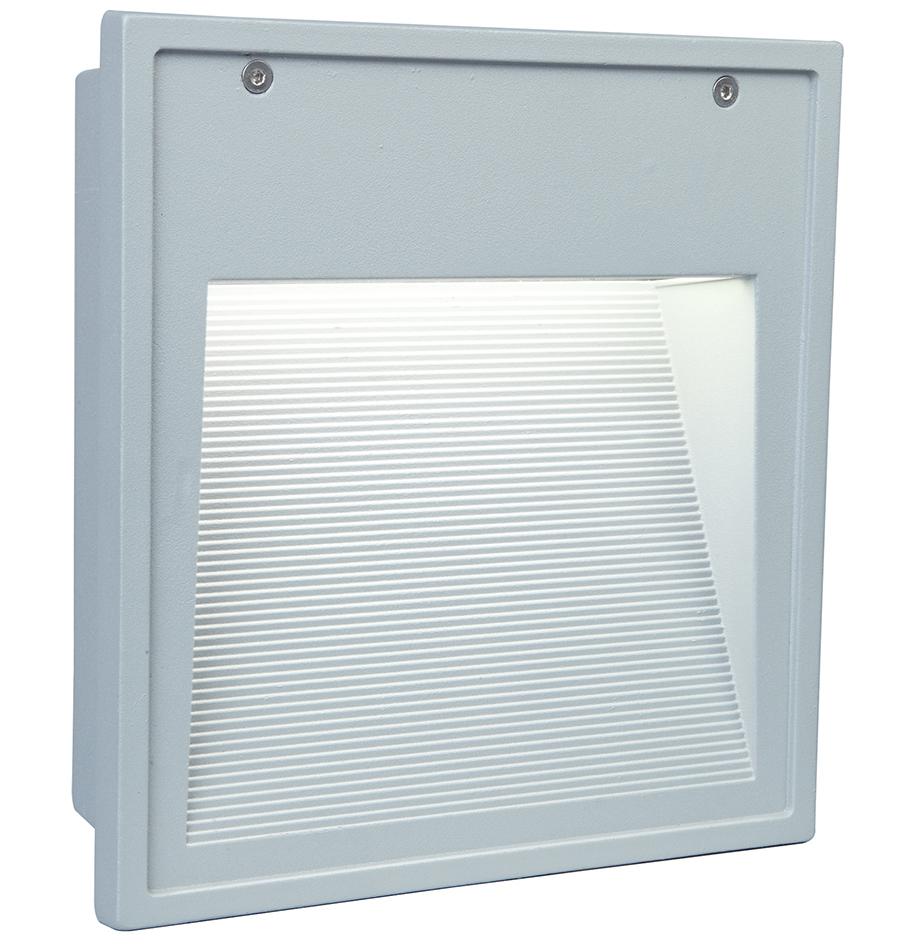 Design and Construction​
Wall lanterns and barn lights continue to use light bulbs as these fixtures have been aesthetically designed around the classic appearance and ambiance of light bulbs. Other types of wall lights that use LED technology embrace an integrated architecture in which the LED module and accurately paired driver electronics are mounted into the luminaire housing. The benefits of integrated architectures include customizable light output, precise optical control, unprecedented fixture design freedom, and better
thermal management
. The housing or frame is mostly constructed from aluminum alloy which boasts high mechanical properties and good processability. High pressure die casting (HPDC) makes it possible for the aluminum housings to achieve excellent dimensional accuracy, smooth surfaces and improved thermal conductivity.
Outdoor wall lights are engineered to deliver years of maintenance-free operation in exterior environments. The cast aluminum housings are typically polyester powder coated for superior weatherability and fade resistance in extreme weather conditions. The lenses or diffusers are made of either glass or impact resistant, UV stabilized polycarbonate or PMMA. These luminaires are sealed to protect the interior components from dust and water ingress with typical IP ratings including IP44, IP54, IP65 and IP66.
Most outdoor wall lights are hardwired whereas solar powered wall lights that harvest energy from sunlight offer an environmentally friendly solution to outdoor lighting.
Lighting Control​
Outdoor wall lights can incorporate various
lighting controls
to support energy efficient operation. Occupancy control strategies use
motion sensors
to detect occupancy in a space and accordingly signal a controller to turn a light on. When target zone is absent of motion activity for a preset period of time the light is switched off or programmed to stay at a low dimmed output. Dusk-to-dawn
photosensors
provide daylight harvesting by automatically turning light on at dusk and off at dawn. Adding wireless connectivity to a security light allows you to control the light from anywhere in the world via a smartphone app.