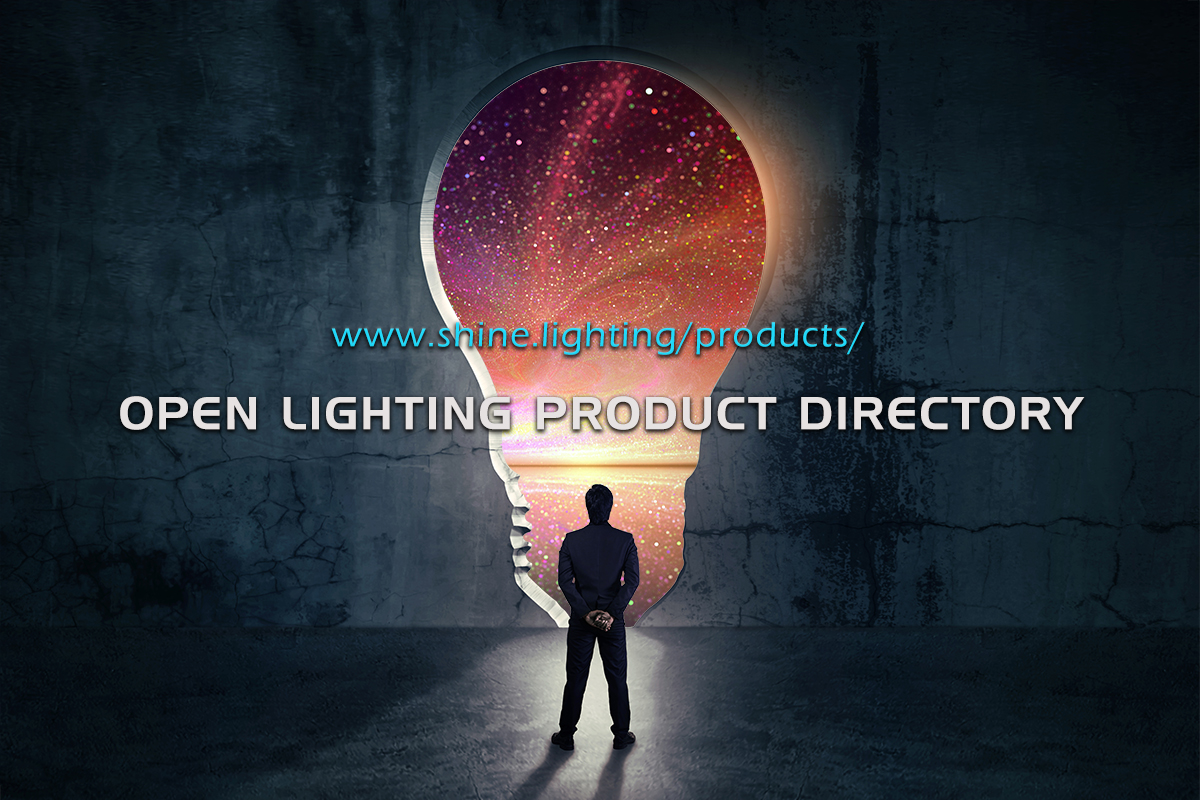 The
Open Lighting Product Directory (OLPD)
is an online product showcase venue that delivers the best-in-class infrastructure for the global lighting industry to generate B2B sales leads and drive brand value. The metasite organizes lighting products into hierarchical categories to facilitate great matching between B2B sellers and buyers. It is the only industry portal that truly dives into the world of lighting products and reaps the power of knowledge to stay at the forefront of product marketing. OLPD is a core part of Global Lighting Forum (GLF)—the latest generation of online product marketing and business branding portal.
The lighting industry is a drained, chaotic sector. It is short of momentum and deficient in exciting opportunities. Market competition is now reaching fever pitch as commoditization of lighting products based LED technology is happening due to overcapacity in manufacturing. The challenge facing industry participants is therefore identifying paths for differentiation. On the plus side, solid state lighting technologies breathe new life into lighting system design and deliver an exciting feat of engineering. The introduction of Internet of Things (IoT) as the backbone for connected lighting systems creates yet another revolution and opens a plethora of compelling value propositions.
LED technology has come to its fruition. The dynamics of growth within the lighting market are shifting dramatically. The phenomenal efficiency of LED systems is no longer a killer punch. The price-performance tradeoff results in the flooding of short-lived, low-light-quality products on the market. Eventually, a vicious circle began to form. Many lighting manufacturers are struggling to find their feet in the current playing field. Nevertheless, the essentials of good lighting never change. They have to be conceived in the conversation between design and engineering. Digital technology resides at the core of today's lighting products to deliver value. The lighting industry needs to move rapidly to adapt to the ongoing trend of blending the physical and digital realms. Human centric lighting (HCL), which revolves around using lighting to support well-being, performance and health of humans, has been one of the driving forces behind much of the latest lighting technology evolution. The continuing HCL trend with its requirement for increased controllability also drives the movement towards IoT transformation.
The Open Lighting Product Directory works with the industry to overcome the formidable obstacles that have been placed in the path. At OLPD, we're devoted to helping the industry embrace all the opportunities that come with the positive changes in the industry. The digital platform provides not only a stage to showcase your products, but also a fellowship environment to engage your target audience. With the fusion between directory and community, OLPD gives your products instant exposure to potential customers, allows you to build brand awareness, and helps you foster relationships with customers and peers.
No one else in the industry has gone to the extremes of product-centric internet marketing as we have. Our focus is not on industry news and other types of ephemeral content which gets buried by the influx of new time-sensitive content and thus has a short lifespan and produce little engagement. We create evergreen content that stands the test of time. OLPD is a never-ending exhibition and a regularly updated product database. It is free to participate and hosts product showcases as long as exhibitors wish. The barrier-free entry into the product show is intended to encourage broad participation. When it comes to light fixture designs, we believe classics never go out of style. That's why we offer lifetime product listings to honor light fixtures that offer timeless sensibility. We synchronize our heartbeats with the latest technology development and design trend in the industry. OLPD editors review new product submissions in a timely manner to ensure the products get the earliest possible exposure. An ever-fresh database lends sustainability to the product directory.
Tactically, lighting product marketing is becoming more specialized every day due to the broadening technology mix and increasing diversity of customer needs. Simultaneously, lighting product marketing is also becoming more strategic as brand building moves to the marketing frontier. A strong brand helps lighting manufacturers and suppliers cut through the morass of the market, reduce price sensitivity and increase margins.
Bringing perfection to product marketing is what we do. Since 2014 we've been diving into the lighting industry and exploring the science behind lighting products. With persistent dedication and devotion, OLPD has created the industry's most extensive and granular category database of lighting products. Virtually every product category has informative, technically sensible, and search engine friendly content which helps B2B customers discover product value, establishes niche authority, drives brand value, facilitates lead generation, and improves search engine rankings. It's been such a massive undertaking that no one else in the industry willed it. "Content is king" is what many internet marketers preach. But it's a sad fact that people who operate online lighting verticals indulge in creating filler content or journalistic writing that doesn't provide much practical value for product marketing.
The Open Lighting Product Directory consists of three complementary modules: Media, Forum, and Informatory
Media
Media
is the place where product listings are hosted. GLF members submit their products to this module. Media is designed with usability in mind. The easy-to-use interface allows members to get started quickly. A product submission is made up of three elements: the visual medium, product title and product description.
The visual medium can be a product image or video. A visual presentation is worth a thousand words. Any sort of relevant visual stimulant can add immense value to product marketing. In general, we recommend to embed a video presentation which can pack a lot of information for both sales activation and brand building. However, a high-quality image can also attract prospects, establish credibility and spark interests.
Here at GLF we hold ourselves to unwavering editorial standards with regards to the composing of titles and descriptions. The title and description are critical assets of a product listing because they give the target audience a quick insight into the product. Thoughtful copywriting can boost engagement, increase the chances of the listing being displayed upon an on-site search, and improve search engine rankings and click through rates.
Forum
The
Forum
module of OLPD features product threads hosted in the categorized product forums. A product thread begins with a piece of description that provides a brief introduction on the products to be listed in this thread. The small product guide is intended to avoid distraction from the following product listings while providing a quick reference. The product listings from the Media module are embedded into the thread. They can be sorted by date or by vote. The voting system is yet another feature that is exclusive to OLPD. This feature allows the directory to award products that set the standard for excellence.
Product threads are designed to steer the audience's attention on the list of products. Becoming a part of forum conversations allows them to evoke social psychology, which in turn creates an engaging context. Niche internet forums are great places to showcase products and build relationship with business partners. They provide a direct line to your audience and encourage interaction, connection, and information sharing among members. Global Lighting Forum brings together dispersed groups of investors, entrepreneurs, decision-makers, industry experts, marketing professionals, and stakeholders across the industry. It provides an interactive environment for people in the lighting industry to engage.
Informatory
The
Informatory
module focuses on content marketing. The goal of content marketing is to build a deeper level of engagement and establish a higher level of authority. Informatory is composed of product posts that are organized into niche-based categories. A product post features a guide that provides in-depth product knowledge. Each product post has a corresponding product thread. The product post displays product listings that are embedded into the product thread. The main content (MC) of a product post is the informative, meticulously crafted guide. It is written with a mindset to convey the value of the listed products effectively. This content can help establish credibility, build thought leadership and foster a professional feel. Site quality algorithms of Google also award content with a high level of expertise, authoritativeness and trustworthiness (E-A-T).
The wiki-style product guides offer a satisfying amount of high quality MC that can't be found on other B2B verticals. The presence of valuable and credible information will give potential buyers a better impression of the products that are listed following the guides. The thoughtful combination of information and listings speaks to the pain points B2B content marketing. Content is how people experience a brand. Reading between the lines of well-researched content, they can definitely see our unyielding commitment to building niche excellence. What's more, search engines love informative, trustworthy content. Crafting high quality content is a part of our huge endeavor with regard to search engine optimization (SEO). Search engines send the most targeted audience to B2B verticals. We have been actively working on SEO to acquire search engine traffic.
The entire dynamics of the lighting market are in rapid evolution. No one should be under any illusion of surviving with low-value-added assembly business. Nothing can be ensured only when you turn your complaints of environment and fear of competition into the courage and put your dream into action. The composition of both lighting products is poised to grow more complex as lighting becomes increasingly connected and intelligent. In a rapidly evolving industry, a crucial source of competitive advantage is niche excellence. Just as you're striving for the best, our quest for perfection is relentless. From light sources to luminaires, and smart lighting to IoT, we proudly stay at the forefront of technology conversations to deliver the industry's most effective B2B internet marketing solution.