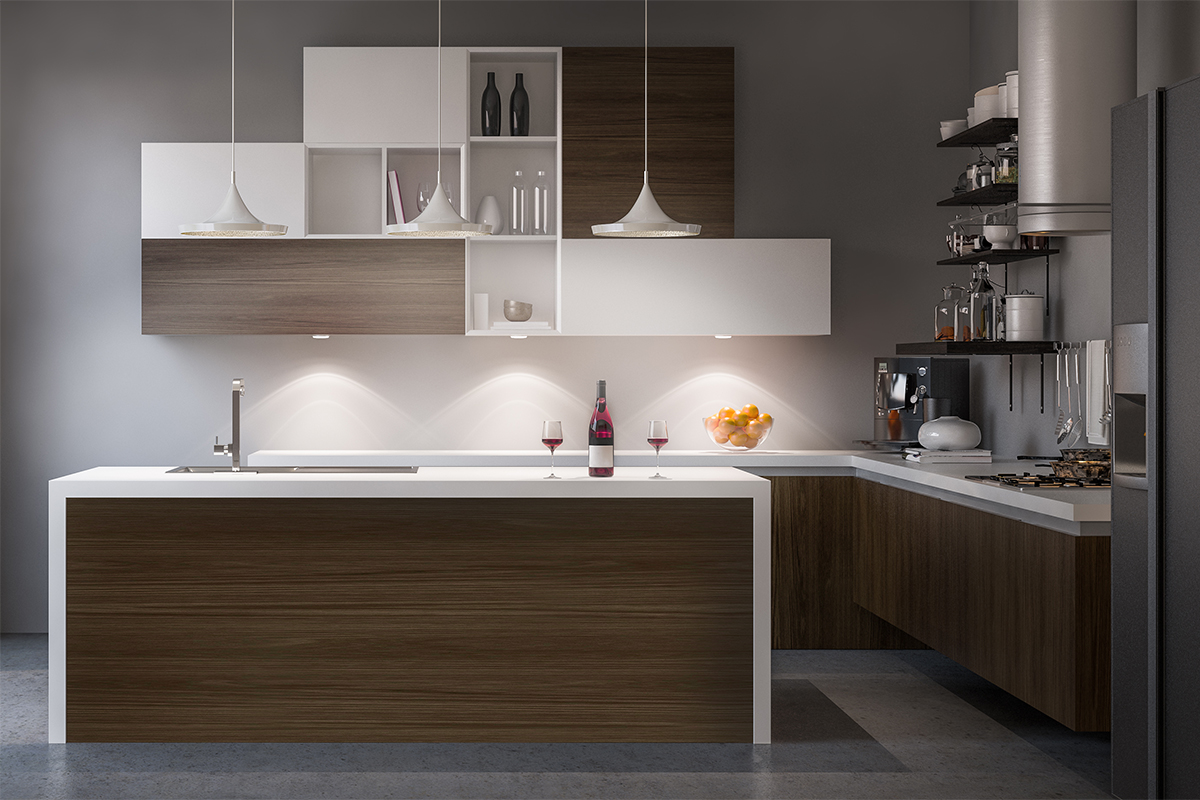 The Workhorse of Tight Space Lighting​
Under cabinet lighting
provides localized illumination to minimize shadowing of the task surface that may otherwise occur if only overhead ambient
lighting fixtures
were installed.
Under cabinet light fixtures
which are mounted to lower exterior surfaces of storage furniture or are recessed relative to the surfaces to illuminate close proximity countertop surfaces below constitute a substantial share of the indoor lighting market. By directing light toward the countertop from underneath cabinets or shelves, under
cabinet lights
not only improve visibility in the task surface defined by the countertop, these task lighting fixtures can also enhance decorative features of the countertop surface and its surroundings.
Add Task Lighting to Under Cabinet Space​
Task lighting is a critical element in a kitchen design. As the social center of the home, kitchens are often crowded with family activities and require adequate illumination. Typically, well-dispersed general (or ambient) lighting is achieved with the recessed
ceiling lights
, surface mount fixtures or
pendant lamps
. Under cabinet lighting is often added to kitchen cabinets to ease kitchen chores by illuminating key work areas around the room. Under cabinet lighting is also an essential addition to any office or interior working space where there exists shadows cast by cabinets, bookcases and shelves from the overhead lighting. Virtually every office, scientific, educational, commercial, retail, institutional and healthcare facility has work areas under overhead storage cabinetry or other light-blocking furniture components where a complementary light source is a necessity to provide task lighting.
Highlighting Residential and Commercial Decors​
Under cabinet lighting products are the perfect enhancement to an exhaustive array of residential and commercial decors. Lighting designers frequently resort to these incredibly versatile fixtures to realize a host of design possibilities. The underside of cabinets or shelves provides an ideal placement for localized lighting because the light source can be easily concealed to avoid fixture obtrusiveness and harsh glare caused by dispersed light rays. In a recessed installation, a cavity within a shelf or bottom of the cabinet receives the light fixture enable a reduced lamp profile outwardly of the mounting surface. With properly layered under cabinet lighting, colors of interior space are vibrant and textures (furniture, backsplashes, countertops, food, etc.) are enhanced, making the kitchen space or work area more human centered. When coupled with today's latest lighting technologies such as dimming control, motion detection, mood lighting, under cabinet lighting offers big opportunities and give builders and designers more flexibility in their lighting choices.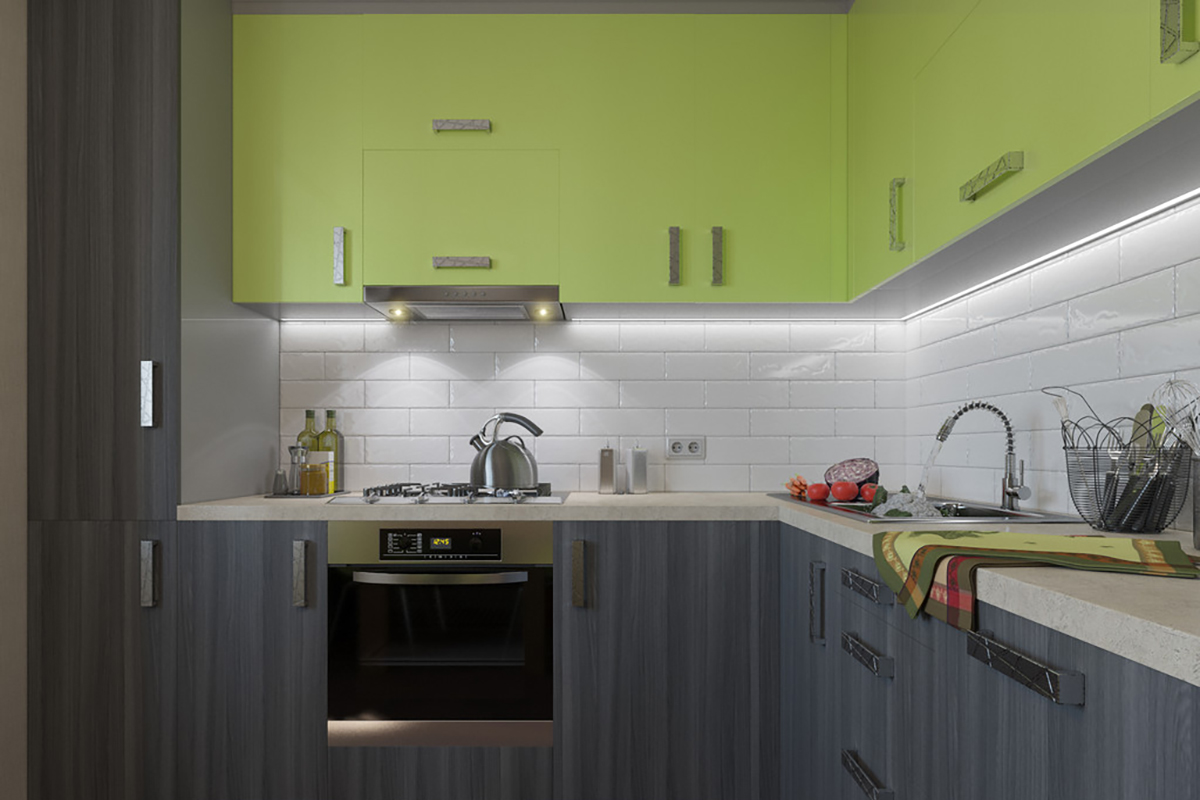 Versatile Lighting Applications​
Under cabinet lighting offers a multitude of interior applications, ranging from under cabinet and shelf illumination to highlighting architectural features or creating visual focus by implementing cove, accent, cornice, valence, stair, handrail, task, display, or toe-kick lighting. In some scenarios, under cabinet lighting also doubles as a night light to provide low level ambient lighting.
Under Cabinet Lighting​
Adds a layer of depth to a kitchen or work space, illuminates the horizontal task surface such as kitchen countertops for food preparation, provides vertical illuminance on the wall, highlights decorative surfaces.
Puts books, exquisite items, valuable artworks and personal treasures in focus. Helps you sort out the items you want in dark or deep cabinet spaces where additional illumination is desired.
In-cabinet Lighting​
Brings ambient light into the cabinet and highlights specific work zones. Such type of lighting is usually equipped with a built-in integral door sensor to trigger the light on when the cabinet door is opened.
Toe Kick Lighting​
Lights up the floor to define the baseline edges of cabinets for consistent light coverage in the kitchen or bathroom. Toe kick lighting is a great way to add a layer of depth for creating a balance of light from ceiling to floor.
Cove Lighting​
Provides indirectly illumination over cabinets or in architectural coves around the ceiling perimeter. These lights are built into ledges, recesses, or valences to increase the sense of spaciousness and provide aesthetic accents.
Accent Lighting​
Cabinets and shelves create dark cavities that fall in the shadow of ceiling lights. Accent lighting provides a brilliant decorative layer of light that creates visual interest and pleasing warmth to an interior.
The Phasing Out of Inefficient Lighting Sources​
Conventional under cabinet lights use halogen, xenon, or fluorescent light source with each having its own advantages and disadvantages. Halogen lamps produce a warm, attractive illuminance that is great for creating an inviting atmosphere to any under cabinet space. The main disadvantages of the under cabinet halogen lamps include low efficiency, low efficacy. In addition, the halogen lights generate more heat and ultraviolet radiation. Xenon under cabinet lamps have a slightly warmer
color rendition
with exquisite detail and produce a more inviting tone than halogen counterparts. A common problem in halogen and xenon under cabinet light fixtures is that significant heat energy is generated in the process of emitting light. Temperature sensitive or temperature controlled food stored in a cabinet can be spoiled or deteriorated by the heat. Moreover, the close proximity of heat-generating light sources to a task surface is uncomfortable for those working there. Fluorescent lamps provide cool-to-touch ambience perfect for
commercial applications
or office environment where a large amount of light is desired over a linear work plane. While fluorescent lamps provide more uniform illumination and have a better energy efficiency than halogen and xenon light sources. Fluorescent lamps have a number of disadvantages such as low power factor, high level of harmonic distortions, shorter lifespan as a result of high switch frequency, longer start-up time, flickering (stroboscopic effect), ultraviolet emission, and disposal/recycling problems. Another significant disadvantage with halogen, xenon, fluorescent lamps is these lamps are highly fragile when mechanical shocks or vibrations occur.
New Technology Inspires an Innovation of Lighting​
In view of the aforementioned disadvantages associated with conventional under cabinet light fixtures, there is a rising demand for a light source that's able to overcome the disadvantages of traditional lighting. The advent of digital lighting technologies, specifically semiconductor light-emitting diodes (LEDs), have received considerable interest in interior lighting applications today. LED under cabinet lights are solid state lamps that exhibit many of the characteristics of halogen, xenon and fluorescent cabinet lighting, yet consume only a fraction of the electricity with much less heat generation. Compared with traditional lighting,
LED lighting
technology offers the promise of higher energy efficiency, smaller size, improved robustness, greater resistance to shock, excellent durability and reliability. LEDs not only have instant on/off switching capability, but also offer impressive controllability such as dimming and control through
occupancy sensors
and
photosensors
. LEDs emit a cool light with very little infrared light which may cause damage to sensitive objects or fabrics. LEDs are directional in nature and custom optics are typically used to optimize the beam spread over a specific area in order to meet the light output patterns necessary for under cabinet and undershelf lighting applications. High quality spectral output and optical efficiency with good color rendering ability can be easily achieved as a result of the improvement in LEDs and associated optics. The exciting features of LED technology are further multiplied by the long operational lifes as well as low maintenance costs which can be significant for the short-lived traditional lamps.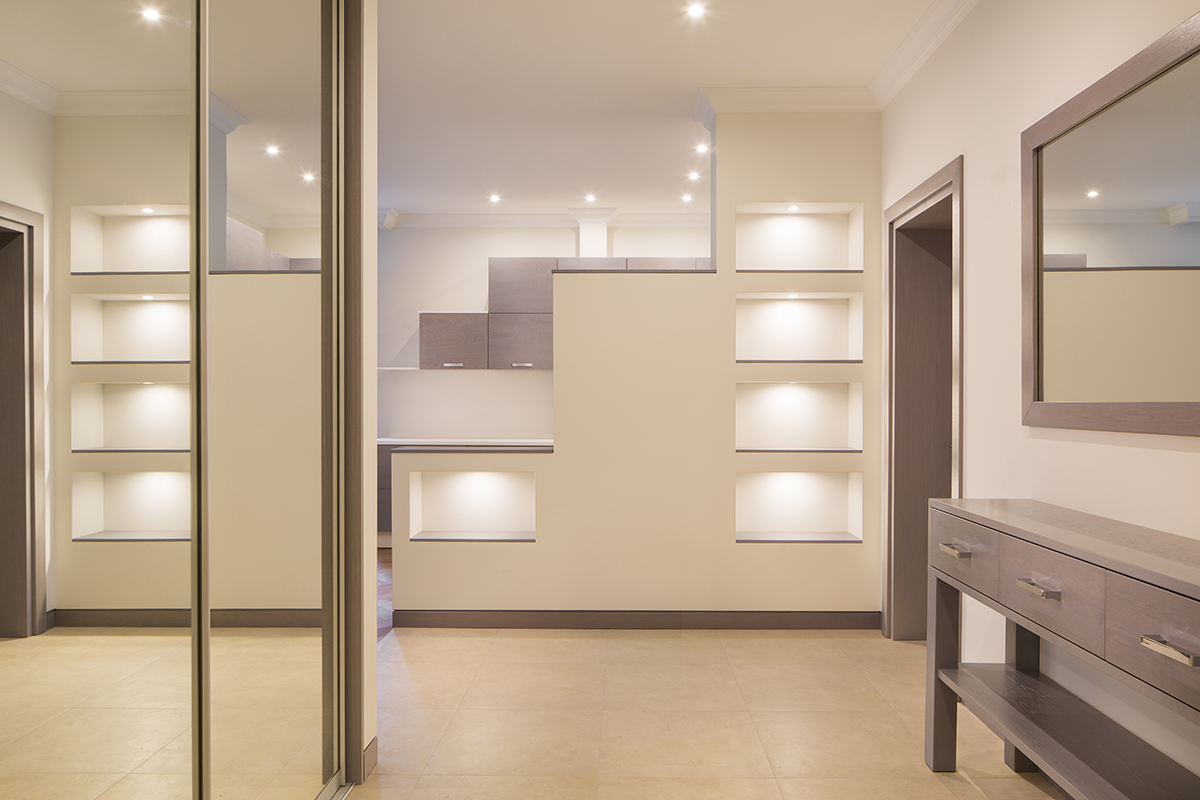 Types of Under Cabinet Lighting Fixtures​
Under cabinet lights generally fall into three different categories – linear lights, light strips, and
puck lights
. Linear light fixtures are extremely versatile and available in a selection of styles, sizes, outputs and
color temperatures
. They are almost ubiquitous in residential and commercial lighting applications, including cabinet lighting, display lighting, shelf lighting, cove lighting, and signage. Modular
linear lighting fixtures
are known wherein multiple fixtures may be installed end-to-end under the entire length of cabinet cavities to provide a uniform, well-distributed illumination off one power source for the entire countertop. Light strips or tape lights, such as flexible
LED light strips
, allows for many creative installations such as under cabinet lighting, undershelf lighting,
architectural lighting
, bar lighting, retail display, ceiling cove lighting, and bar lighting, etc. Because light strips are thin and flexible, they are advantageous for lighting along the curves and angles of cabinets. Puck lights, so named because they resemble a hockey puck, have generally cylindrical disc-shaped housings. These lights provide concentrated pools of lights to the countertop surface, creating a scallop effect for a focal point.
LED Linear Fixtures​
Linear LED under cabinet lights come in a variety of lengths and configurations, but they're all linear and rigid in shape. These fixtures feature an extruded aluminum housing that acts as a thermal distribution channel to dissipate the heat generated within the LED assembly to the ambient atmosphere so that the electronic components therein maintain peak performance. The self-contained under counter light fixture includes an integral
constant current
electronic driver, LEDs, optical components and other features such as occupancy sensors and dimming circuits. Most linear under cabinet lights has a modular configuration with electrical and mechanical interfaces to plug together multiple fixtures for uninterrupted linear illumination without the use of wire jumpers, creating continuous row connectivity with a streamlined and attractive appearance. Depending on the desired characteristics of cutoff distribution for workstations and under cabinet installations, various methods of focusing or diffusing the light with secondary optics including lenses, reflectors, TIR optics, diffusing covers, etc. are used. A rocker switch allows the fixture to be turned on/off or manually set to low or high luminance.
LED strip lights
offer vibrant flexibility for straight, curved and irregular spaces - virtually limitless design and installation possibilities. The thin profile of light strips makes them unobtrusive and perfect for edge lighting under counters, cabinets and shelving perimeters. A flexible LED light strip consists of an elongated flexible ribbon of printed circuit board (PCB) with multiple electrically conductive traces for power transmission, LEDs are attached along a length of the front PCB surface and electrically connected to the conductive traces. A light transparent or translucent lens is assembled to direct light toward the task surface under the cabinetry. LED strips can be connected or wired in series (end to end installation) with snap connectors or jumper cables. They can also be wired in parallel to a single power supply. The flexible strip can be affixed on any dry and flat surface with the industrial strength adhesive tape. LED light strips typically utilize a low-voltage 12V DC or an optional 24V DC electrical power supply.
Under cabinet puck lights provide pools of lights to the countertop surface for a focal point illumination. LED puck lights feature a compact disc design and offer an attractive recessed or surface mounted point source that dynamically adds a functional or decorative layer of light to a room. The classic design with ultra-low profile makes these round LED light fixtures a perfect fit for any accent or task lighting application that needs excellent and even illumination but with limited space. Battery operated LED pucks with integrated motion sensors are useful for low ambient applications where electrical outlets are not available nearby. Touch sensitive switch may be integrated into LED puck lights such that a mood from night light to full brightness can be easily and conveniently achieved.