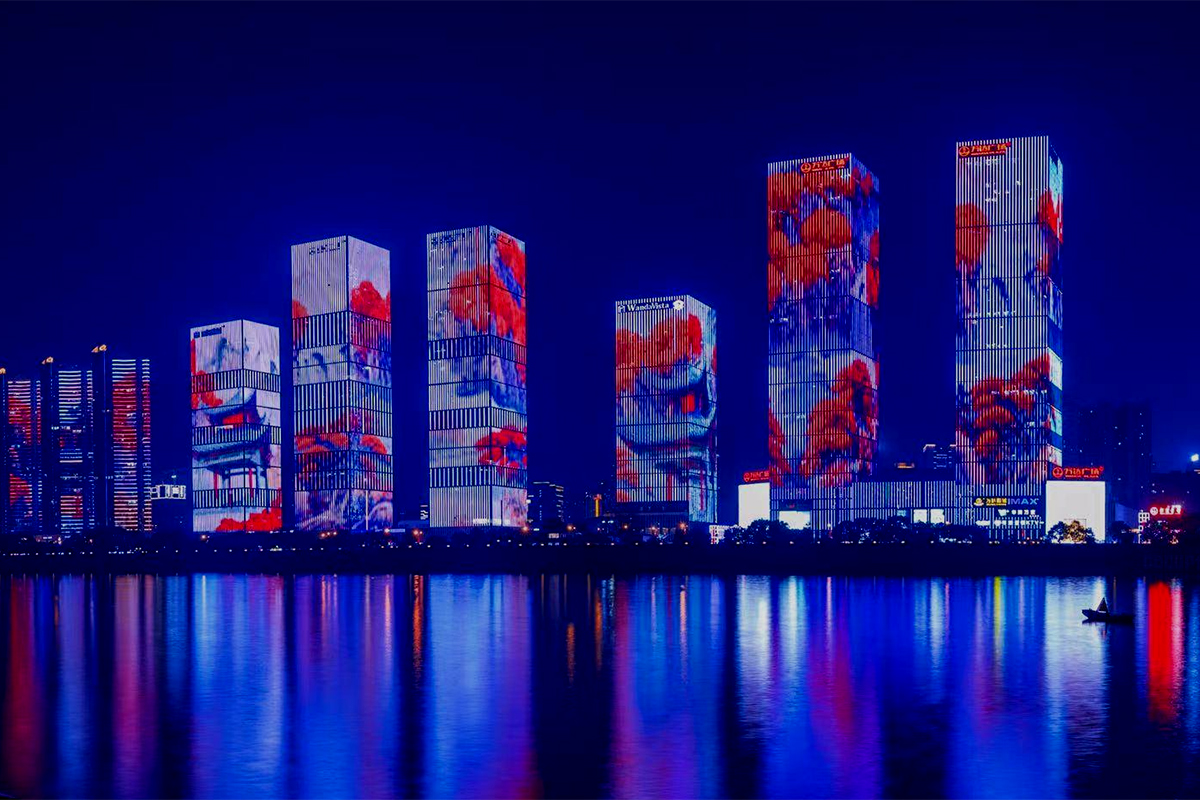 What is a media facade​
A media facade is a type of digital architectural display that is integrated into the exterior of a building, bridging the gap between architecture and digital media. LED media facades transform building facades into high class venues for digital media presentations. These low-resolution pixel matrices architecturally fuse light and media, allowing architects and designers to develop digitally interactive architecture that strikes a balance between aesthetic structures and visual communication. The digital nature of solid state lighting makes it possible to create communicative media facades that are truly integrated into the architecture for the display of complex graphics or video feeds. Bridging the digital world and urban space, digital media facades make buildings tell stories, create the glow of excitement, pique the interest of pedestrians, and bring forth a new perception of architecture.
How media facades works​
A media facade is an array of individually addressable, digitally controllable LED nodes which are connected together and attached to the exterior surface of a building to form an integral part of an architectural vision. Each LED node corresponds to a display pixel. The pixel may produce
white light
or single color only but most often it is an
RGB
module capable of producing deeply vivid color throughout the spectrum as well as white light across the entire range of
color temperatures
. Within the RGB node each LED channel can be independently controlled to produce any level of light output. In addition to the primary colors produced by these LED channels, multiple LED channels may be combined to create additive color mixing. Lights of different wavelengths are mixed to produce secondary colors—like what occurs in a computer or TV screen.
LED media facade systems take dynamic lighting to a new level of sophistication. With intelligence provided by integrated circuit chips packaged into the LEDs and data signals delivered by
lighting control systems
, tens of thousands digital pixels can be coordinated simultaneously to create dynamic and intricate color patterns that appear to move across grids of LED nodes. From simple color changing to graphic animations and complex light shows, LED media facades offer the ultimate in visual presentations that heighten the visual impact of architecture and grab attention. Integration with video controllers enables sequences of moving pictures to be streamed and scaled across the entire LED matrix system, which converts the building facade into a giant canvas or video screen.
Media facades vs. video walls​
Both media facades and video walls can be used as outdoor commercial displays and digital billboards to excite customers for retail facilities, enhance fan experience for sports venues, and create brand identities for ambitious corporates. Nonetheless, media facades go beyond delivering multimedia content. These architecturally integrated digital displays redefine the way we think of public art. Medialized
architectural lighting
should be considered not just a functional necessity, but a form of visual communication in which architecture and lighting work together to bring out the character of the building itself. Installation flexibility and intelligent controls ensure flawless integration into any building facade which is therefore enabled to function as a dynamic palette for text, graphics and video animations. The perfect balance of aesthetic structures and illumination art captivates the mind, rewards the eye, enhances the atmosphere, and evokes powerful emotions.
Medialized LED facades accomplish much more than integrated LED boards could ever do besides elevating the architecture itself to a digital media platform. In contrast to conventional video screens that come into conflict with daylight harvesting of a building, LED media facades allow natural light to flow through the screen. The daylight capability from its structural transparency ensures the see-through media facade does not obscure a scenic view of the outside world from the inside of a building. Transparent media facades allow for natural light to pass through, maintaining the building's natural appearance while displaying digital content. Additionally, some media facade systems could serve as a second skin and screen the interior from direct sunlight while simultaneously offering privacy to the occupants of the building.
Discrete mounting of LED nodes facilitates air circulation for natural convective cooling of the junction point of the LEDs, which translates to enhanced lumen maintenance,
color stability
and useful life of the LED nodes. Unlike conventional LED video walls that have to be mounted onto a flat surface and are limited in sizes, LED media facade systems are completely modular and scalable. Flexible form factor of pixel strings allows expansive installations to two- and three-dimensional video displays without the constraints of sizes, shapes, or architectural structures.
Pixel matrix​
At the core of all media facade solutions is the intelligent LED node which features dynamic integration of power, communication, and control. A distributed intelligence architecture and modular interconnectivity contributes to the sophistication and scalability of media facade systems. The modular components of media facades exist in various forms or structures to accommodate a variety of architectural surfaces, planes, and configurations. These fully addressable and networkable lighting nodes pack smart pixels technology and the visual power of energy-efficient LEDs into durable, all-weather, and easy-to-install packages.
The intelligent LED node is an
LED light engine
that integrates LEDs and driver circuitry into a single assembly. The driver includes an integrated circuit (IC) or controller chip serving as the brain that interprets data and controls the individual LEDs. In a multi-channel
addressable LED system
, each LED has a unique address, allowing for individual dimming and on/off control. The control circuitry also ensures synchronization between multiple
addressable LEDs
, allowing for coordinated color changes and animations across the entire control zone. The data signal is transmitted along the LED pixel matrix. Each uniquely addressed LED reads its corresponding part of the signal, extracting the color and brightness information intended for it.
A media facade can be a pre-fabricated LED mesh screen wherein intelligent LED nodes are organized in rows and columns to form a grid-like structure. It can also be an LED pixel matrix composed of discrete
LED luminaires
such as
LED pixel dots
and pixel bars.
Metal LED screen meshes​
Metal LED meshes integrate linear profiles of
LED modules
into textile-like stainless steel wire meshes. The fundamental qualities of woven metal durability and attractive visual appearance of stainless steel meshes make metal LED meshes perfect for long-term implementation in high-end architectures. Alongside its shimmering metallic finish, the stainless steel mesh has advantages such as inflammability, corrosion resistance, and high transparency which ranges from 40 to 90 percent. The mesh width and dot pitch can be freely selected depending on the application variables such as resolution, viewing distance and ventilation needs. Solid structures and high dimensional stability allow stainless steel facade skins to absorb significant loads, such as hurricane force winds, without distorting the facade's uniform appearance.
One of the most renowned manufacturers of metal mesh systems is GKD, a German technical weaver that developed the process for the integration of customized LED modules into textile-like stainless steel meshes. Its flagship products, Mediamesh® and Illumesh®, won the internationally recognized red dot design award for outstanding design and quality. Designed for day-and-night applications, MediaMesh is woven in a manner that allows thin, horizontal
LED profiles
to be inserted into flexible carrier sleeves at custom vertical intervals on a project-to-project basis. Its horizontal resolution comes standard in a pixel pitch of 25 mm or 50 mm. High LED density provides a tighter pixel grid that ensures exellent daytime visibility and high resolution imagery. Illumesh is designed for applications at twilight and during the night. The transparent media facade has special fixtures woven into the stainless steel mesh so that the integrated LED profiles are positioned in front of the mesh. Light is diffused through vertical reflection and creates a three-dimensional hologram effect, which makes the lighting appear to float in front of the facade. Completely assembled with LED profiles and cabling, both Mediamesh and Illumesh mesh systems can be rolled for ease of transportation.
LED pixel dots​
LED pixel lights in the round, square or bullet type form factor are the most versatile media solution that can be deployed on any architectural surface no matter how large or irregular a facade or structure might be. These individually addressable pixel dots can be used to create intricate media scenarios with customizable pixel pitches and maximum artistic flexibility. The exceptional illuminance of LED pixel dots provides superb visibility and excellent contrast ratio in any light condition. A choice of flat lens, TIR optical beam, or opal dome versions ensures these direct-view pixel luminaires accommodate different optical requirements such as viewing angles and visible profiles. Flexible strands of LED nodes can be mounted directly to the facade. Single nodes embedded on meshes and nets create grids of evenly spaced pixels. Mounting tracks allow the LED nodes to radiate in straight linear runs.
FlexElite, an intelligent pixel dot luminaire developed by
Signify
's Color Kinetics, brings new excitement, attention, and beauty to landmark buildings, skyscrapers, stadiums, and other high-profile structures around the world. The 4-channel LED nodes create bright, addressable points of light with high intensity output of up to 149 lumens per node as well as a full spectrum of precisely controllable light, including millions of saturated colors, pastels, all with unrivaled color accuracy across the visible spectrum at any level of saturation and the entire range of color temperatures. When working with high resolution graphics, images, videos or live TV broadcasts, the FlexElite media facade system delivers incredible performance even in broad daylight. FlexElite lets you choose from 1, 2, 5, 10, and 20 node sections, giving you full flexibility in defining pixel pitches to accommodate various resolutions. The flexible strands of these 60 mm (2.4 in) diameter nodes support runs of up to 100 meters (300 feet) per output port.
Traxon Technologies, an Osram business, offers full color (RGB) LED pixel dots assembled in flexible meshes and strings. These LED nodes are available with 3, 6, or 9 high-performance
SMD LEDs
with 16, 42, and 63 lumens per node. Providing a map of light that leads the eye to appreciate their splendor, Traxon's mesh systems reinvent the large-scale media experience by allowing bright graphics to shine, and natural light to pass through without leaving people in a building in the dark and obstructing a scenic view from inside the building. Each mesh module comprises eight flexible acrylic grids, linked with vertical fixed dot strings, and provides 70% transparency. Totaling 160 individually-controllable LED nodes per grid module, the mesh screen is capable of delivering low-to-medium resolution large-scale graphics, text, and video animations. Mounted on a pliable cable with customizable pixel pitch options, Traxon's string systems accommodate a variety of irregular surfaces, planes, and configurations. They can be either direct surface or DIN rail mounted.
Media tubes are a direct-view or diffused linear LED lighting solution for exterior accent and low-resolution graphic display applications. In media facade applications these modular pixel tubes are mounted to facades with an expansive surface. The installation typically adapts to the architectural elements, such as the frames of unitized curtain systems, so that the facade appeal is not compromised. Large glass units of unitized curtain systems deem media tube systems have bigger pixel pitches than mesh facades and require a long viewing distance as well. Despite their resolution limit, media tube facades boast high output, wide viewing angles, and quick field installability. They are a good choice for large-scale, two-dimensional architectural surfaces with defined edges and cladding that can accommodate linear luminaires,
Color Kinetics and Traxon Technologies are two prominent providers of tubular facade systems. Color Kinetics' Vaya Tube provides a simple-to-install, lightweight option that makes landmarks come alive at night with color and motion. Its streamlined profile, reduced weight, and snap-lock connection allow Vaya Tube to be easily integrated into the facade cladding elements of a wide range of buildings. Vaya Tube delivers flux and on-axis intensity of up to 300 lm/68 cd. Modular design allows the line of light to cover up to 80 ft (24 m) using both ports on the control module. Traxon's RGBW Media Tube® incorporates 40 controllable pixels per meter. Intelligent "+White" algorithms allow the digital media system using 3 channels signal to control 4 colors per pixel for both vibrant color-mixing and high quality whites. Media Tube can be daisy-chained up to 10 meters on a single power run.
Control systems​
Control systems give digital media facade systems a central brain by distributing intelligence via programmable chipsets that reside in LED nodes. Video controllers scale, sample video content, and stream it to media facades. They can coordinate tens of thousands of individually controllable lighting nodes of a facade system to create a turn-key visualization solution. Computer-controlled display programming allows users to develop scenes, map video input onto a grid of nodes, simulate light shows, and schedule show playback. Because of
DMX
addressing limitations, data in a media facade system is typically communicated in Ethernet compatible packets. There are dedicated LED media facade controllers, which often support protocols such as KiNET, Art-Net, sACN (Streaming ACN), or proprietary protocols. These controllers communicate over standard Ethernet networks and provide real-time control and synchronization. Controllers with wireless capabilities are also available for applications where wired connections are impractical. In some cases, media facades are integrated with building automation systems. The integration enables coordinated operation with other building features. The type of controller chosen is determined by the scale, complexity, and specific requirements of the media facade project.
Color performance​
To create a seamless viewing experience, all RGB, RGBW, or RGBA LED nodes of media facade systems are required to produce accurate color and brightness. Each color channel (R, G, B and/or W/A) must be calibrated to compensate for any color difference and ensure the quality of light emitted by different LEDs is absolutely accurate and uniform. Intelligent LED nodes typically include an on-chip programmable calibration which automatically synchronizes the display color and brightness settings. Pixel-level calibration enables the LED nodes to implement additive color mixing with accurate color depth. In addition to color accuracy, color consistency across the entire span of a media facade is another critical factor in designing a media facade system. To counter variability that is inherent in the LED manufacturing process, the LED packages used in the nodes are binned to within the first 3 MacAdam ellipse steps. Color Kinetics' Chromasync technology which adjusts the color point with pinpoint precision allows its luminaires to achieve color variation of less than 2 SDCM across multiple nodes.
Outdoor survivability​
The ability to survive outdoors rigors such as ultraviolet (UV) exposure, ingress of water and dust, and resistance to corrosives is of uttermost importance for media facade systems. Media facade LED nodes require IP66, IP67 or even IP68 level ingress protection to achieve high watertight integrity. Small LED nodes use waterproof sealants which must have excellent chemical stability, bond strength, and weather resistance. Tubular luminaires may include a special vent that equalizes pressure differential between the enclosure air volume and the environment while blocking water and contaminants. The connection of the modular nodes and power/data input are made using cables with waterproof connectors. Plastic lenses of these
outdoor LED luminaires
must be UV stabilized to prevent premature yellowing which may result in color shift.