The
Open Lighting Product Directory (OLPD)
sets the stage for the lighting industry to exhibit products and showcase solutions online, at the same time it provides the means for B2B buyers to efficiently identify the best suppliers and brands online. Product submissions are free and easy. However, you should be aware of the following points in order to make the process smooth.
Register a corporate account​
A corporate account refers to a member account registered in the name of a business.
The username must represent the business
. The email used in the registration process must be a
corporate email address
that has an own domain matching the name, brand or business name of a company.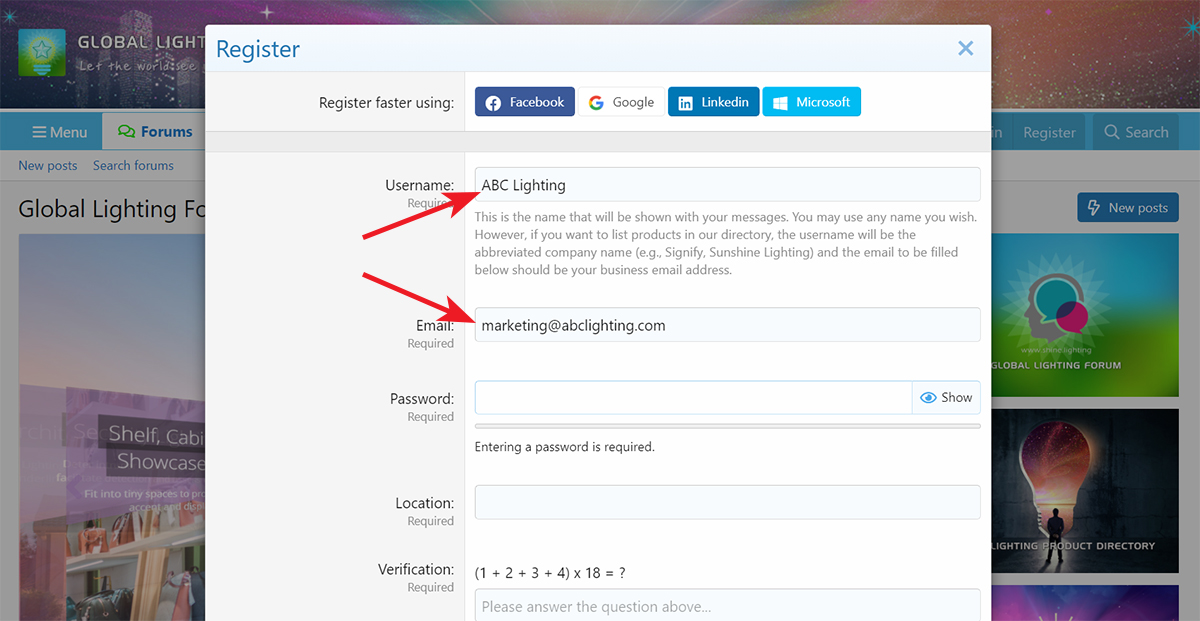 An email verification link will be sent to the registered email and the account will be automatically approved upon email confirmation.
Make sure to use your company's logo as the avatar otherwise we won't give you an unprade.
Our staff will then review user information of the account and upgrade it to a corporate account if it is eligible.
Only until the manual approval of the corporate account by our staff can you make product submissions.
The account review is usually made within 24 business hours. To check if your account has been granted privileges to submit product listings, go to
https://www.shine.lighting/media/
to see if an "Add media" button is displayed on the page. This button appears only on the interface of a corporate account. Submit a ticket
here
if your account is not upgraded despite you've done everything right.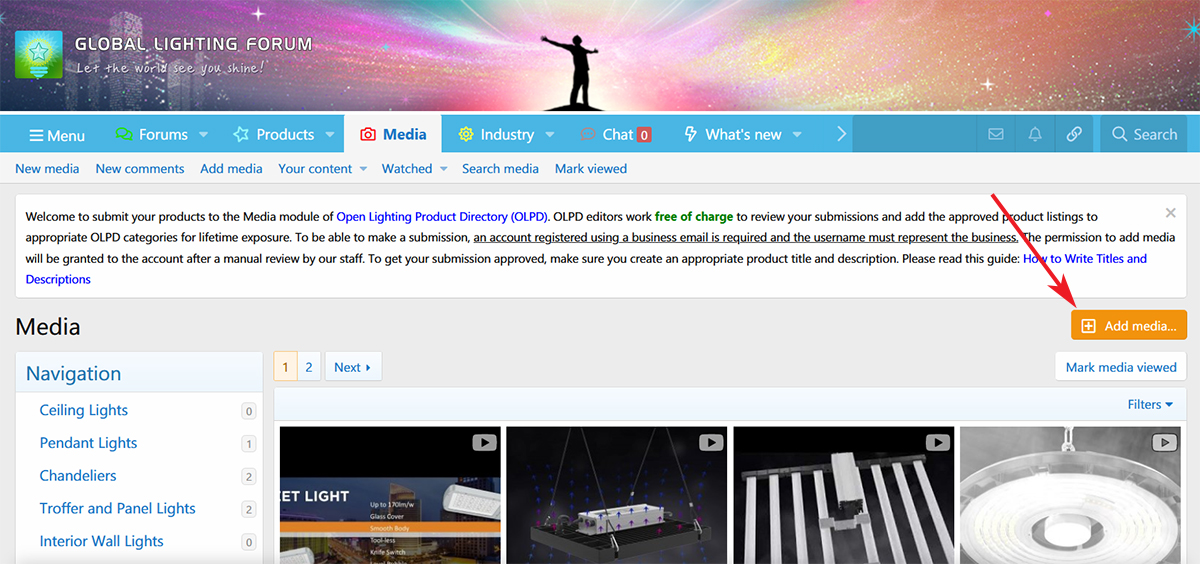 A corporate account allows to link up to 6 personal accounts, so that a user can switch between accounts to play different roles.
Find the submission page​
OLPD has the industry's most extensive and granular category database of
lighting products
. Highly specialized categories make it possible to more precisely accommodate buyer's needs and help build a sense of niche authority.
Product submissions can be made directly in the Media module if you know the category to add media to. You can also do this on a product page which refers to a product thread in the Forum module or a product post in the Informatory module. Every product page has a prominent link that directs you an appropriate product submission page.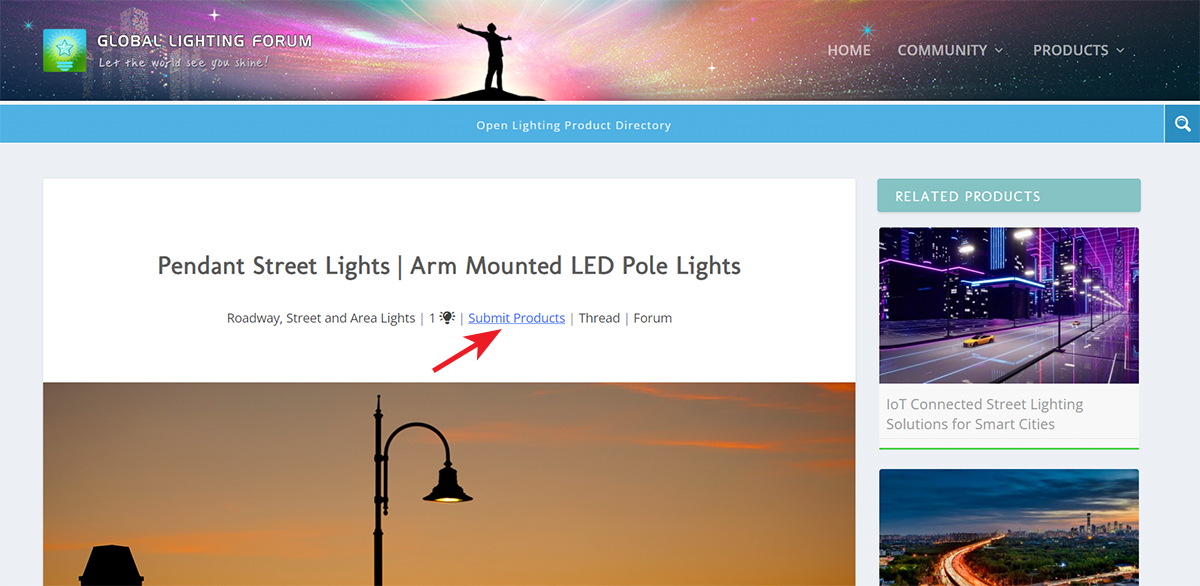 Submission link on a product post​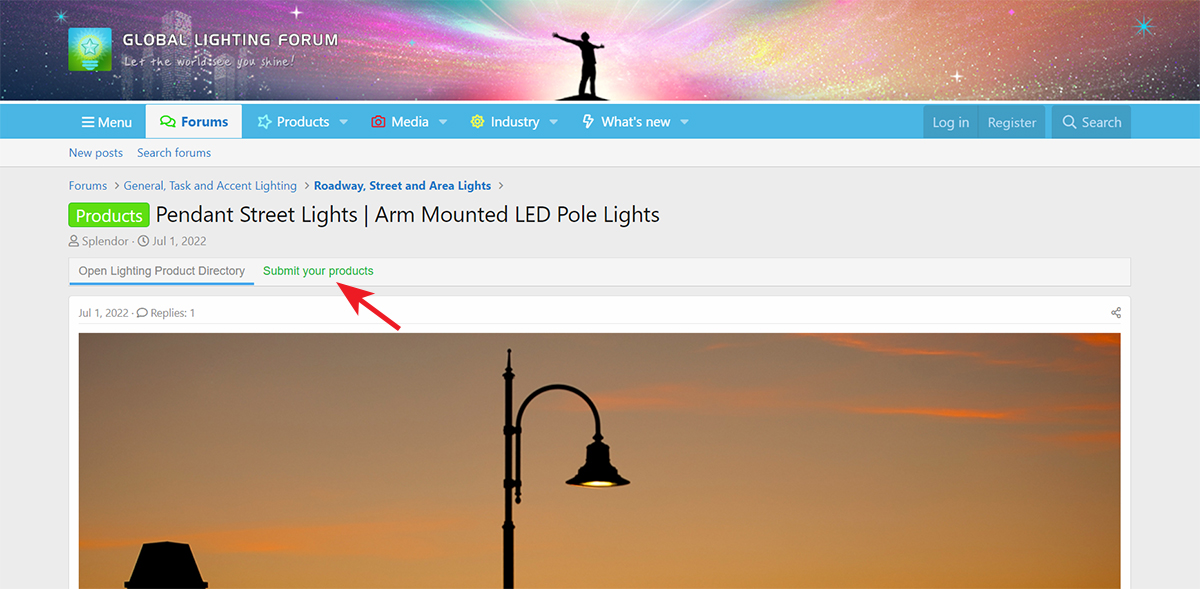 Submission link on a product thread​
If you cannot locate an appropriate Media category or product page, go to
https://www.shine.lighting/products/
and do a search. Just put your product keywords at the search bar and a list of relevant product posts will be automatically displayed.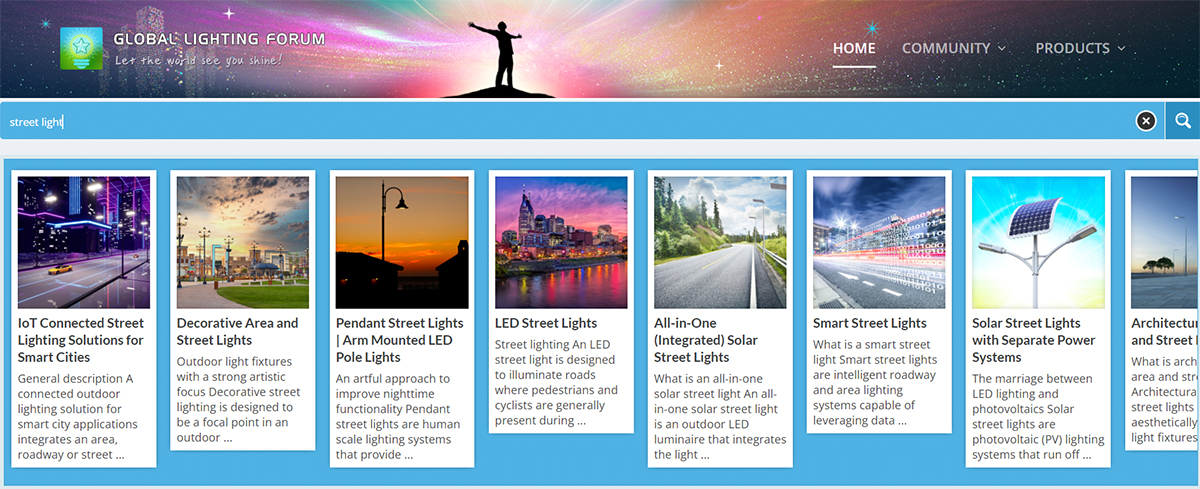 Submit product information: the visual medium​
Media is the place where product listings are hosted. Corporate members submit their products to this module. Media is designed with usability in mind. An easy-to-use interface allows members to get started quickly. A product submission is made up of three elements: the visual medium, product title and product description.
The first part of the submission process is to submit the visual medium.
The visual medium can be a product image or video. A visual presentation is worth a thousand words. Any sort of relevant visual stimulant can add immense value to product marketing. In general, we recommend using video presentation because it can pack a lot of information for both sales activation and brand building. However, a high-quality image can also attract prospects, establish credibility and spark interests.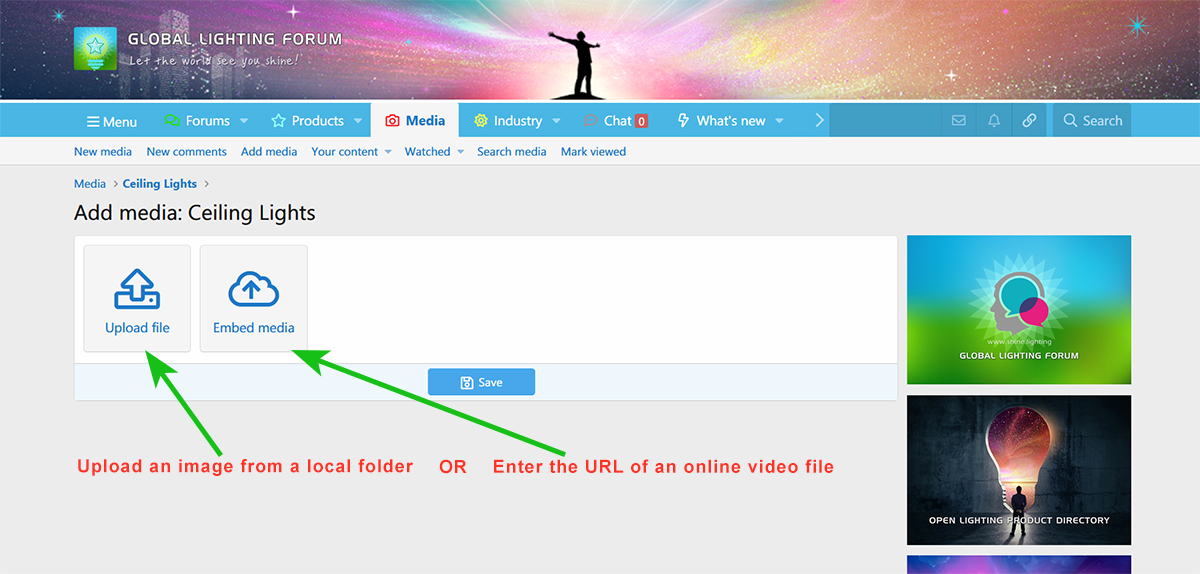 The "Upload file" button is used to upload an image from a local folder. Allowed file formats include png, jpg, jpeg, jpe and gif.
We suggest the ratio of width to height to be maintained around 4:3 (e.g., 800 x 600 px). Image height should never exceed image width. A minimum image width of 500 px is required. The configuration of our server limits file size to 2,048 KB. Files over this size will be rejected.
The "Embed media" button allows you to embed a media URL, e.g.,
HTML:
https://www.youtube.com/watch?v=2JylBA6w97g
We suggest hosting your product marketing videos on YouTube, which is a time-tested platform. The reliability of a video hosting service is critically important.
A product listing allows only ONE image or video.
Submit product information: the title and description​
The title and description are critical assets of a product listing because they give the target audience a quick insight into the product. Thoughtful copywriting can boost engagement, increase the chances of the listing being displayed upon an on-site search, and improve search engine rankings and click through rates.
Here at GLF we hold ourselves to unwavering editorial standards. A poorly written title or description will get your submission rejected. Please refer to
this guide
on product copywriting.
We understand some people may have difficulty writing English product descriptions. We'll take this into account and try to help those who have done all their best but still fail to meet the submission requirement. However, we have a policy of zero tolerance for those who cut corners with low quality submissions.
OLPD has been designed as a free service. You can always submit your products free of charge. For those who are unable to make product submissions or write product descriptions, our paid service can be relied upon. We charge a small fee (USD20 per listing) and give your product a voice that communicates its unique value and resonates with your target audience.
Mission complete​
Enter the title and description, click the "Save" button, your job is done.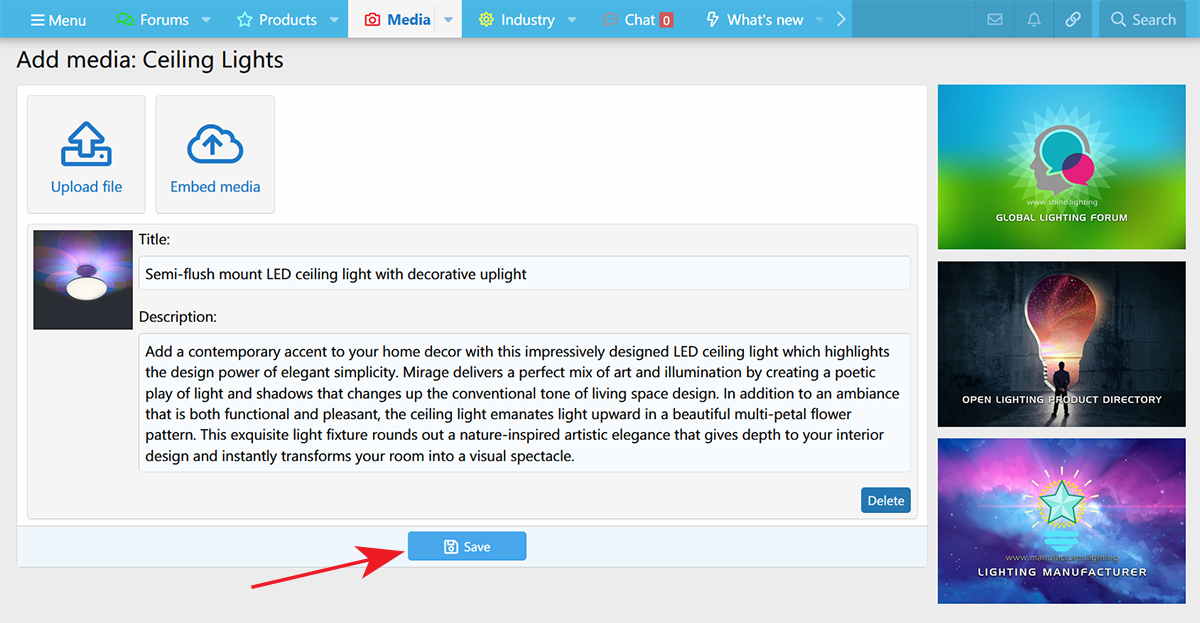 ---
GLF stall will review your submissions within 24 business hours. An approved product listing will be displayed in its media category and indexed by the local search engine. One of the many prominent features offered by OLPD is enhanced product exposure. Your product listings will have the chance to be displayed in relevant product threads (Forum) and product posts (Informatory).
The Open Lighting Product Directory consists of three complementary modules: Media, Forum, and Informatory.
Media is the place where product listings are hosted. The Forum module of OLPD features product threads.
A product thread begins with a brief introduction on the product category. Relevant product listings from the Media module are embedded into the thread by GLF staff. These listings can be sorted by date or member vote. If there are upvoted listings, the default listing order will be based on the number of votes.
An example of a product thread: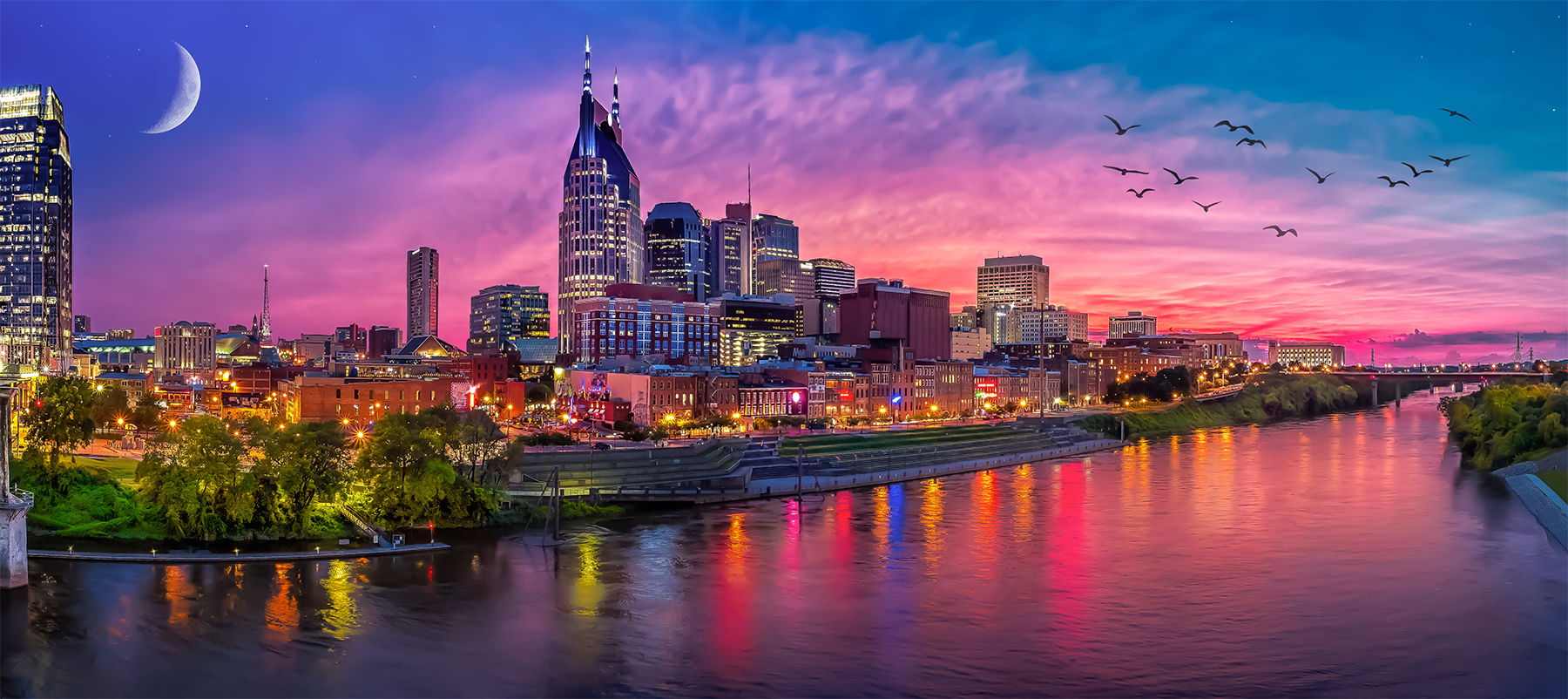 An
LED street light
is designed to illuminate roads where pedestrians and cyclists are generally present during hours of darkness. Depending on whether the lighting design should account for the presence of non-vehicular traffic roadway lighting can be defined as highway lighting or street...

www.shine.lighting
The Informatory module focuses on content marketing. It hosts product posts that are organized into niche-based categories. A product post features a guide that provides in-depth product knowledge. It also fetches product listings that are embedded into a corresponding product thread. The listings are displayed below the guide, with the order inheriting that of the product thread. The informative, meticulously crafted guide offers a satisfying amount of high-quality MC that can't be found on other B2B verticals. It is written with a mindset to convey the value of the listed products effectively and to improve search engine (Google) rankings.
An example of a product post: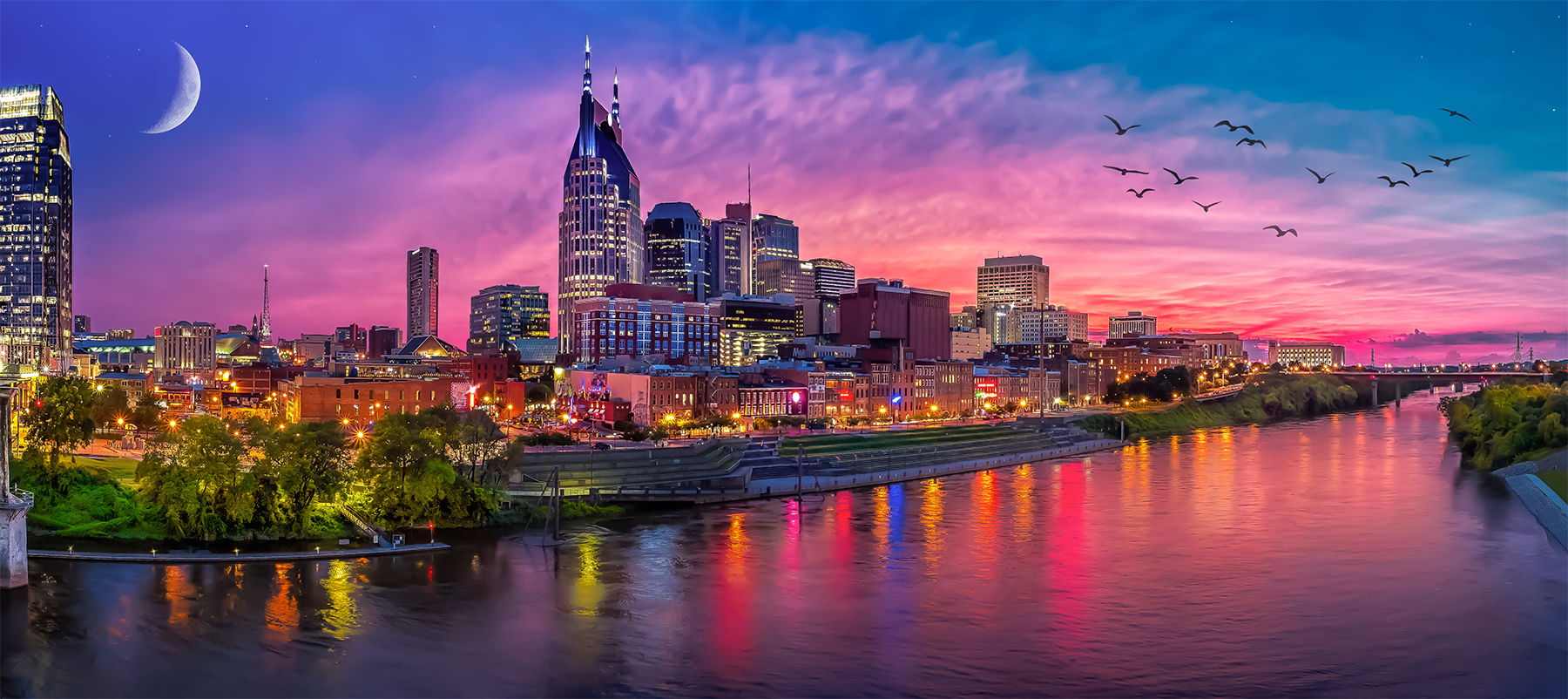 An LED street light is designed to illuminate roads where pedestrians and cyclists are generally present during hours of darkness. Street lighting is provided for roads that serve both vehicular and non-vehicular traffic.

www.shine.lighting
A product listing may be displayed in multiple product threads and posts depending on the product characteristics. We award high quality submissions with multi-category listing exposures.
If you do not find your submission published in the Media module within 24 business hours, it is very likely that the submission has been rejected. An approved media item will be added to one or more product threads and posts by OLPD editors, unless there're no corresponding threads and posts.